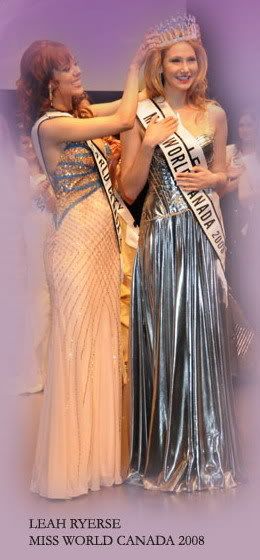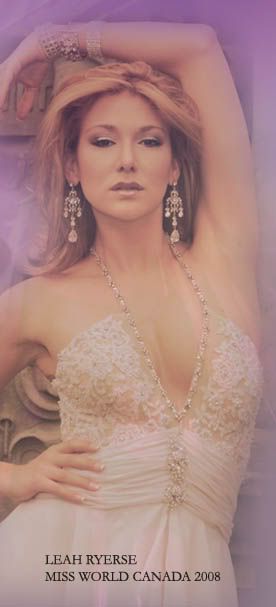 MISS WORLD CANADA 2008 RESULTS
WINNER: Leah Ryerse / winner goes to
Miss World 2008
1st Runner-up: Simranjit Singh
2nd Runner-up: Shaileen Stanley
3rd Runner-up: Tea-Nercita Savic
4th Runner-up: Lena Ma
AGE 19, HEIGHT 5'10"
Leah is a student at McMaster University, doing a double honours B.A. in Health Studies / Social Work. She wants to work in health promotion and social work with children and the mentally ill. Being a positive influence on young women is imperative in Leah's future goals.
Leah is a professional model. Her charity work includes Fashion Cares, the fundraiser for AIDS prevention. Her interests include learning about cultures through music and dance. Leah enjoys acting, dancing, roller-blading, baking, and reading.
She also represented her country at
Miss World 2008
, the 58th Miss World beauty pageant, will be held on October 4, 2008, at the Ukraina National Palace in Kiev, Ukraine.