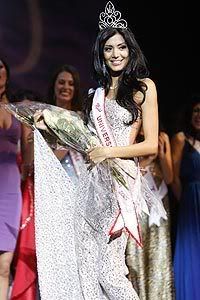 Toronto , Samantha Tajik was crowned the 57th annual Miss Universe Canada last night, April 28th 2008.
An ecstatic Tajik, 25, outshone more than
60 delegates
from across the country to capture the crown before hundreds of black-tie supporters at the Winter Garden Theatre, on Yonge St.
"I want to thank my family and friends for all their support," she said. "I look forward to the Miss Universe pageant in Vietnam."
Outgoing Miss Universe Canada 2007, Toronto's Inga Skaya, 22, said, "It's been a life-altering experience for me."
Tajik will represent Canada at the July 14
Miss Universe 2008
pageant in Vietnam, and has won the use of a car for a year, jewellery and trips.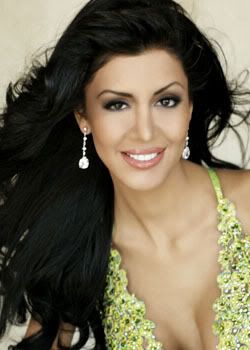 Miss Universe Canada 2008
OFFICIAL RESULTS

Miss Universe Canada 2008 - Samantha Tajik
1st Runner-up: Sahar Biniaz who recently represented Canada at the Miss Tourism Queen International pageant and was the 2nd runner-up
2nd runner-up: Aleksandra Malkin
3rd Runner-up: Lina Lombana
4th Runner-up: Genida Prifti



Top 10: (in alphabetical order)



Elena Tchemissova
Klaudia Olejnik
Stephanie Koo
Taryn Scerbo

Top 20: (in alphabetical order)

Agnes Kim
Anastasia Marinina
Ania Bureacenco
Lateesha Ector
Lauren McKamey
Lyudmyla Tregubenko
Sahra Khoshnavazi
Valerie Welsh
Vanessa Drautz
Miss Congeniality: Aleksandra Malkin and Pauline Ranjbar (tie)
Miss Photogenic: Lina Lombana