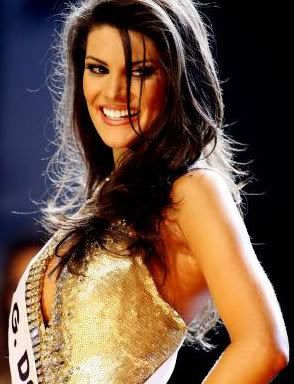 São Paulo, BRAZIL - The new Miss Brazil Universe is Natália Anderle (photo, top), 22, 1.80 m-tall, the representative of Rio Grande do Sul.
The new queen was crowned at the end of a 2.5-hour show held at the Citibank Hall, in São Paulo, edging out Miss Ceará, Vanessa Vidal (photo, below), the deaf contestant who finished as
1st runner-up and will represent Brazil at the 2008 Miss International pageant, in Macau, in September.
The 2nd runner-up was Cynthia Oliveira, Miss Goiás, the 3rd runner-up was Janaína Barcelos, Miss São Paulo, and the 4th runner-up was Marina Marques, Miss Minas Gerais.
During the show, pageant organizers paid a tribute to Adalgisa Colombia, Miss Brazil and vice-Miss Universe in 1958. When given the microphone, Ms. Colombo said that "what was done to Miss Brazil at Miss Universe 2007 (Brazil was second, having lost the crown to Japan's Riyo Mori) was 'dirty'", something in her own words "Brazilians and the whole world have never fully accepted".
Natália Anderle, the new Miss Brazil Universe, was crowned by Natália Guimarães, 1st runner-up at last year's Miss Universe pageant. It was Rio Grande do Sul's 10th Miss Brazil Universe victory in history.