Photo: Josipa with 1st RU Sara Vulinović (right)
and 2nd RU Isabell Brezović.
Zagreb, CROATIA - Josipa Kusic has won the title of Miss Hrvatske (Croatia) 2008.
Josipa Kusic will get ready to compete for the
Miss World 2008
.
Miss World 2008
, the 58th Miss World beauty pageant, will be held on October 4, 2008, at the Ukraina National Palace in Kiev, Ukraine.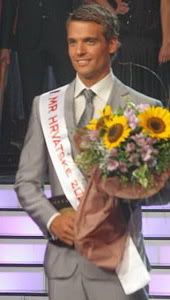 Dino Bubicic won
the title of Mr. Croatia 2008