Miss Spain, Alejandra Andreu, was crowned Miss International 2008 in Macau.
Alejandra Andreu is 18 years old and comes from Zaragoza. She aspires to study visual communications, as she just graduated from high school months ago.
Alejandra, who stands 173 cm tall, finished in third place at the Miss Spain pageant last March, earning her the right to compete in Miss International.
MISS INTERNATIONAL 2008: SPAIN, Alejandra Andreu
Miss International 2008 Finalists dancing
Final Results
Countries and territories which sent delegates and results.
* Winner: Spain, Alejandra Andreu
* 1st Runner-up: Colombia, María Cristina Díaz-Granados
* 2nd Runner-up: Poland, Anna Tarnowska
* 3rd Runner-up: China, Chang Wei Liu
* 4th Runner-up: Czech Republic, Zuzana Putnářová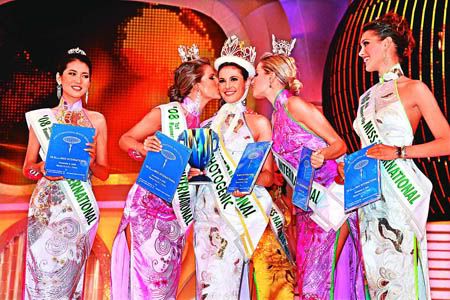 Top 12
* Ecuador, Jennifer Pazmiño
* Japan, Kyoko Sugiyama
* Lebanon, Jessica Michelle Kahawaty
* Philippines, Patricia Fernandez
* Puerto Rico, Miriam Pabón
* Turkey, Gülsün Uslu
* Venezuela, Dayana Colmenares
SPECIAL AWARDS:
* Miss Photogenic: Spain, Alejandra Andreu
* Best National Costume: Aruba, Nuraysa Lispier
* Miss Natural Beauty: Belarus, Tatiana Ryneiskaya
* Miss Friendship: El Salvador, Georgina Cisneros
Meet all Contestants