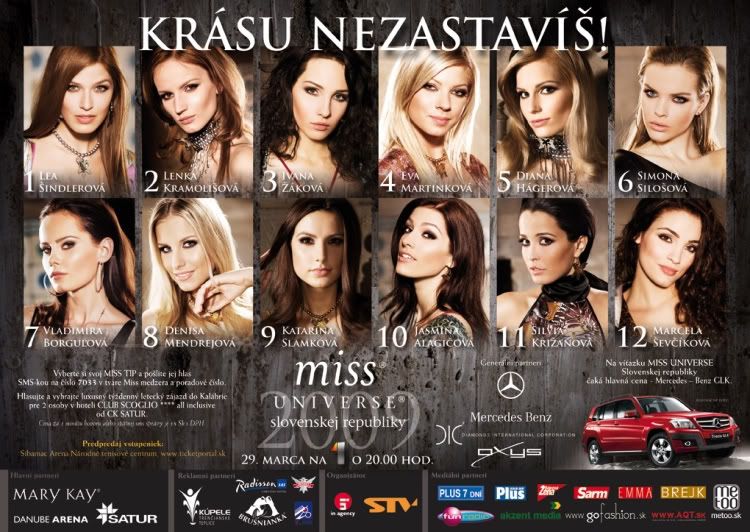 The campaing for the 2009 search of the Slovak representative for Miss Universe has just began!!!
In the upcoming weeks the castings will take place in the cities of Slovakia in order to choose the semifinalist who will make it to the final 12 contestants of the Miss Universe Slovak Republic 2009.
The final show will be held in the Sibamac Arena, Bratislava on March 29, 2009.
Miss Universe Slovak Republic
is the annual beauty pageant, which selects representatives for Miss Universe (winner), Miss Earth (1st runner-up) and Miss Intercontinental (a delegate chosen by the TV viewers). Its run by the IN AGENCY headed by the former Miss Czechoslovakia and Miss Universe 1994 finalist Silvia Lakatosova.
Below is the picture of 18 girls who made it to the semifinal round and now 12 of them will be picked to create final 12!!


RELATED BEAUTY PAGEANTS PICTURES

* Road to Miss Universe 2009

* Road to Miss Earth 2009

* Road to Miss World 2009

* Miss Universe Slovak Republic Past Winner

* Miss Philippines, Karla Henry, was crowned Miss Earth 2008

* Russia just crowned Miss World 2008

* Edita Krešakova, Miss Slovakia World 2008

* Meet Miss World Contestants

courtesy to pageant-mania.ephpbb.com
Miss Universe Slovak Republic Official Website : www.missslovakia.sk