Nelsa Suraia Pombal Alves, 21 year old, won the title of
Miss Angola 2009
Beauty Contest held at the Cine Atlântico, in Luanda. She will be the representative of Angola at the
Miss Universe 2009
Pageant.
Nelsa Alves won a brand new car, US$ 3000 and some jewelry. But aside from this fabolous prizes, as the new Miss Angola 2009 titleholder, Nelsa will dedicate her reign to the fight against AIDS, a serious matter in southern African countries.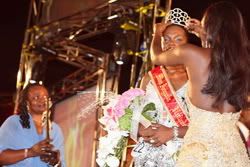 The 1st runner-ups was Jesinalda Silva, 20 year old, Miss Cabinda and The 2nd runner-ups was Vilma Leonaldo, 18 year old, Miss Lunda-Norte.
Jesinalda Silva and Vilma Leonaldo are expected to represent Angola in
Miss World 2009
and Miss Tourism Queen International 2009.
RELATED BEAUTY PAGEANT
*
List of Beauty Pageants
* Road to
Miss Universe 2009
* Road to
Miss World 2009