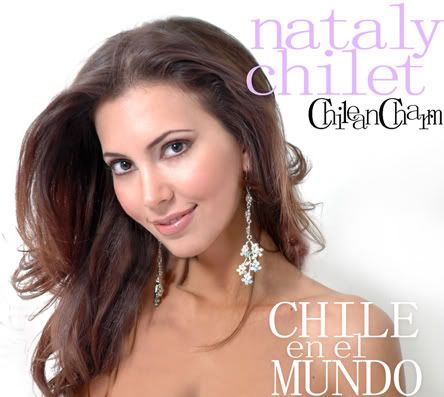 Nataly Chilet Bustamante
Nataly Chilet Bustamante (b. c. 1985), is a beauty queen from Santiago, Chile who competed in Miss Earth 2005. She made the top eight in this international pageant, realized in Manila, Philippines. Miss Venezuela, Alexandra Braun was crowned.
In 2006, Chilet crowned Hil Hernández as Miss Earth Chile. Hernández won the title of Miss Earth 2006.
She competed also in Miss Continente Americano 2007 in June, 2007 where she classified in the top six. The pageant was held in Guayaquil, Ecuador and the winner was Marianne Cruz, Miss Dominican Republic.
In October, 2007, she participated in "Beauty for a cause" realized in Dominican Republic and in 2008, she took part as Miss Chile in "Fiesta de la fruta y de las flores" in Ambato, Ecuador.
Nataly was selected as Miss World Chile 2008 in july, by Chileancharm. She will represent her country in
Miss World 2008 contest
.
Miss World 2008
, the 58th Miss World beauty pageant, will be held on October 4, 2008, at the Ukraina National Palace in Kiev, Ukraine.