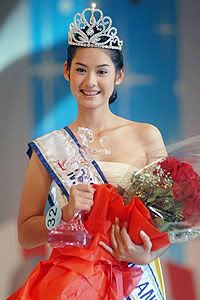 On 31st October 2008, at Bangkok Convention Hall, Miss Teen Thailand 2008 pageants were a night of glamour shinning on stage.
The beautiful amongst all the beautiful girls who was crowned for a title "Miss teen Thailand 2008" was No. 32, Miss Sornsilp Maneewan or Manao (16 year stand 167) , a high school student of " Sa-gnoun Ying" school, Supanburi province.
The winning prize include sash, trophy and a golden pin, cash price 120,000 Baht,
The first runner up went to No. 18, Miss Thanit Tanasophon or Dream (15 year stand 165), a student from Chiengmai, who received 70,000 baht.
The second runner up went to three girls. They were No. 1, Miss natthawannaporn Thaijarern ,(16 year stand 162) from Chiengmai, No.26, Misss Thipparat Amartayakul (15 year stand 165) who also received Pattaya favorite girl prize, and the last one was No. 28, Miss Jata Intero,(15 year stand 164). They all received 50,000 baht each.
SPECIAL AWARDS:
Miss Photogenic : Thanit Tanasophon or Dream

MISS I MOBILE : Prang Suwanbuppha or Kha

MISS HI TECH by AJ : Thanit Tanasophon or Dream

MISS FASHIONISTA by PLATINUM : Chakhelin Mien or Jackki

MISS TRENDY TEEN by BLUE CORNER : Phitchaya Punsiriwong or Um-Im

MISS HEALTHY by AIA : Piraya Pornsiripitak or Luknam

Best Face by KMA : Natcha WonrachanyaKul or Diwdi

MISS HIRUDOID : Nutthinan Champa-Ngam or Namsai

MISS SMART TEEN : Kornwika Kowonrakul or Bebell

MISS FRIENDSHIP : Angela le Cannadine or Ange

MISS HAIR CARE : Chayanan Suthanyawinit or Ink
Meet 50 Contestants
.