The Final Show and Crowning on Saturday May 16th @ 7:30pm. Miss Universe Canada 2008,
Samantha Tajik
, will crown her successor at the end of beauty contest. The Beauty Queen Miss Universe Canada 2009 will represent her country in the Miss Universe competition pageant.
Miss Universe 2009
, the 58th Miss Universe beauty pageant, will be held at the Atlantis Paradise Island, in Nassau,
Bahamas
on August 23, 2009.
Dayana Mendoza
, from Venezuela, winner of
Miss Universe 2008
, will crown her successor in the event.
Jeannette Pastuch
AGE: 18 | HEIGHT: 5'9" | HOMETOWN: MAPLE RIDGE, BC
Jeannette Pastuch was born in Regina Saskatchewan, and moved to British Columbia when she was 2 weeks old. She has one older sister and lives in Maple Ridge, BC with her mother. She was a starter for her basketball team in high school and has received several Athletic Awards. She also received a Health and Humanities Award in Grade 12.
Throughout her life she has participated in many different activities such as basketball, volleyball, softball, dance, hiking, snowboarding, spinning classes, and her personal favorite - the Grouse Grind. She has volunteered much of her time helping with activities at the school gym, and is now the Assistant Coach for the senior girl's basketball team at her old high school.
Jeannette recently started studying Criminology and Psychology at the University of the Fraser Valley, in Abbotsford, BC. She is taking classes toward a Criminal Justice Diploma.
As a young child, she used to dress up in different outfits and put on performances for family and friends. She has recently gotten into modeling, and hopes to pursue a career in modeling and acting. She would love to travel the world and learn about different cultures.
Courtesy: beautiesofcanada.com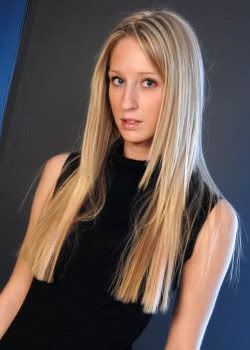 Video: Interview Jeannette Pastuch - Miss Universe Canada 2009 Contestant
meet:
other contestants
RELATED BEAUTY PAGEANTS PHOTOGRAPHY