The Final Show and Crowning on Saturday May 16th @ 7:30pm. Miss Universe Canada 2008,
Samantha Tajik
, will crown her successor at the end of beauty contest. The Beauty Queen Miss Universe Canada 2009 will represent her country in the Miss Universe competition pageant.
Miss Universe 2009
, the 58th Miss Universe beauty pageant, will be held at the Atlantis Paradise Island, in Nassau,
Bahamas
on August 23, 2009.
Dayana Mendoza
, from Venezuela, winner of
Miss Universe 2008
, will crown her successor in the event.
Julie Gauthier
AGE: 23 | HEIGHT: 5'6" | HOMETOWN: GATINEAU, QC
Born and raised in Aylmer, Quebec, she enjoys a great family life with her parents and younger brother and she is grateful to them for making her what she is today. Julie has many friends and is always ready to help out whatever the need is.
Julie is attending the University of Quebec and is in her last year of studying Business Administration, majoring in Marketing. She is very involved in the student activities and she has participated in many academic competitions.
In her spare time, she enjoys traveling, reading, snowboarding and most of all dancing. She started dancing at the age of 3 years old in classical ballet and has now studied jazz, ballroom and belly dance. Her experience has led her to teach dance to small children in elementary schools in her hometown.
Her main ambition would be to help children with self-esteem and bullying problems, having experienced these difficult issues herself.
Courtesy: beautiesofcanada.com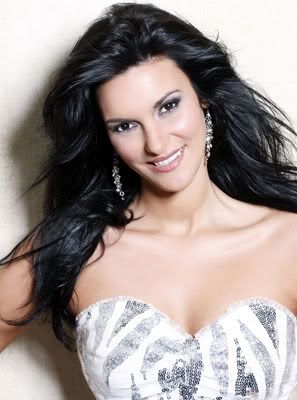 Video: Interview Julie Gauthier - Miss Universe Canada 2009 Contestant
meet:
other contestants
RELATED BEAUTY PAGEANTS PHOTOGRAPHY