The Final Show and Crowning on Saturday May 16th @ 7:30pm. Miss Universe Canada 2008,
Samantha Tajik
, will crown her successor at the end of beauty contest. The Beauty Queen Miss Universe Canada 2009 will represent her country in the Miss Universe competition pageant.
Miss Universe 2009
, the 58th Miss Universe beauty pageant, will be held at the Atlantis Paradise Island, in Nassau,
Bahamas
on August 23, 2009.
Dayana Mendoza
, from Venezuela, winner of
Miss Universe 2008
, will crown her successor in the event.
Laura Pearlman
AGE: 21 | HEIGHT: 5'9" | HOMETOWN: VANCOUVER, BC
Laura Pearlman was born and raised in Regina, Saskatchewan. At the age of 14, she and her family moved to Vancouver, British Columbia where she attended high school and continued to pursue her extracurricular activities. Laura graduated with honours from West Point Grey Academy, was a member of the Vancouver Bach Choir and the related all female Anna Magdalena Chorus. In her last two years of high school, Laura had lead roles in the Saints' Players' Theatre productions of Black Coffee, Fiddler on the Roof, and Dracula. Laura feels most alive on the stage and to this day still loves performing whether it be singing, acting or dancing.
After graduation, Laura attended McGill University in Montreal, Quebec pursuing a Major in psychology and behavioural neuroscience and a Minor in classical theatre performance studies. Laura joined the sorority Gamma Phi Beta where she became very involved with them and helped to raise money for philanthropic efforts such as Breast Cancer Awareness and the sorority's main charity, Camp Fire USA.
Since September 2007 Laura has modeled and been represented in New York, Beijing, Guangzhou, Hong Kong and Seoul.
Courtesy: beautiesofcanada.com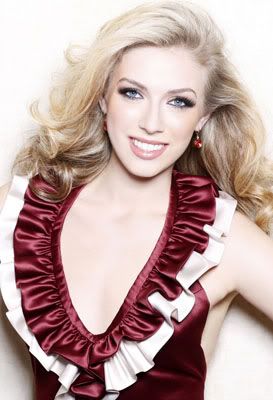 Video: Interview Laura Pearlman - Miss Universe Canada 2009 Contestant
meet:
other contestants
RELATED BEAUTY PAGEANTS PHOTOGRAPHY