The Final Show and Crowning on Saturday May 16th @ 7:30pm. Miss Universe Canada 2008,
Samantha Tajik
, will crown her successor at the end of beauty contest. The Beauty Queen Miss Universe Canada 2009 will represent her country in the Miss Universe competition pageant.
Miss Universe 2009
, the 58th Miss Universe beauty pageant, will be held at the Atlantis Paradise Island, in Nassau,
Bahamas
on August 23, 2009.
Dayana Mendoza
, from Venezuela, winner of
Miss Universe 2008
, will crown her successor in the event.
Liz Martino
AGE: 22 | HEIGHT: 5'6" | HOMETOWN: ETOBICOKE, ON
Driven by life's fast pace, Liz is a determined woman who strives to live life to its fullest potential through happiness and success during the time we have on this earth. Liz is of Italian heritage but was born in Toronto, Ontario, where growing up in such a diverse environment, Liz was not only exposed to many different cultures and lifestyles, but more importantly has developed a passion to learn about other ethnicities across the globe. Liz loves to travel and seeing other parts of the world has personally emphasized how lucky she is to live in such a wonderful country like Canada, which represents ultimate freedom of expression and individuality.
While completing her Business & Society degree at York University, Liz is also currently working full time as the Customer Relations Coordinator at TD Canada Trust. When Liz is not busy at work or school, she enjoys being in the company of her loving friends and family. Liz loves to sing and feels singing is a form of expression that brings tranquility to the busy life she leads. Liz has been singing in the St. Gregory's Church Choir since age fourteen and loves to share her gift with those who appreciate it. Being personally fulfilled each and every day is important because it works to ensure that not only are you leading a satisfying and happy life, you are working to encourage others to benefit and do the same.
Liz believes that because the world has so much to offer, giving back to the community is a way of expressing her appreciation for being blessed with life. She has coached the Etobicoke Under-6 Soccer team, helped direct and perform in a play with under privileged teens and volunteered at a children's camp after receiving her leadership training to be a camp councillor. Even at the workplace, Liz finds a way to give back to the community by teaching grade eight classes "The Economics of Staying in School" with the Junior Achievement program and organizing and running the Children's Miracle Network campaign for Sick Kids Hospital. Physical and mental fitness is another area of focus for Liz, believing that we are only given one body, so we must take care of it by eating healthy and staying active. Liz remains physically active by taking part in many kinds of sports and hobbies like soccer and snowboarding, playing the piano and composing her own music.
If Liz is to be chosen as the next Miss Universe Canada, she would continue to be highly involved in charitable groups as well as emphasizing personal development in herself and for others by showing that one can truly make a difference. Liz feels that being a Canadian enables her freedom of expression and growth as a person and to be an exemplary role model. It is in these changing and unstable economic times, that we sustain our focus on the real beauty and happiness of life, finding it from within and using it to make a difference for the benefit of Canada.
Courtesy: beautiesofcanada.com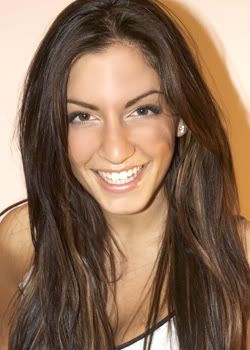 Video: Interview Liz Martino - Miss Universe Canada 2009 Contestant
meet:
other contestants
RELATED BEAUTY PAGEANTS PHOTOGRAPHY