The Final Show and Crowning on Saturday May 16th @ 7:30pm. Miss Universe Canada 2008,
Samantha Tajik
, will crown her successor at the end of beauty contest. The Beauty Queen Miss Universe Canada 2009 will represent her country in the Miss Universe competition pageant.
Miss Universe 2009
, the 58th Miss Universe beauty pageant, will be held at the Atlantis Paradise Island, in Nassau,
Bahamas
on August 23, 2009.
Dayana Mendoza
, from Venezuela, winner of
Miss Universe 2008
, will crown her successor in the event.
Madalina Bejgu
AGE: 23 | HEIGHT: 5'7" | HOMETOWN: NEWMARKET, ON
Madalina Bejgu was born in Bucharest, Romania, arriving in Canada with her family at the tender age of six. For a young woman, independence and determination came early, as she headed back to Romania at the age of twelve, alone.
Living with her grandmother during her teenage years, she was granted the freedom and choice to express herself, this kindled her creative energy. Educated at the National College of Bucharest (E.R.), she achieved an International Baccalaureate Diploma. During her time at college she excelled in many sports, including volleyball, track and field, figure skating and swimming. Upon her graduation, she returned to Canada at the age of 19.
Madalina enjoys spending time with her many friends in the cafes and shops around Toronto. In the summer, she enjoys hiking, outdoor fitness, rollerblading and swimming and in the winter she loves to go skating at the local rink, or skiing at Blue Mountain. She believes in the rewards of hard work, as she studies the many Canadian masters and contemporary artists featured at Gallery 260 in Toronto, where she is curator.
Courtesy: beautiesofcanada.com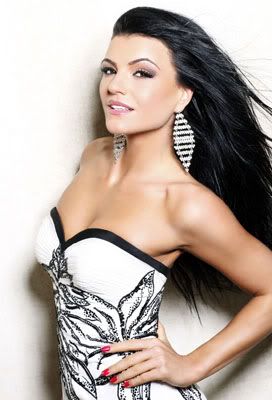 Video: Interview Madalina Bejgu - Miss Universe Canada 2009 Contestant
meet:
other contestants
RELATED BEAUTY PAGEANTS PHOTOGRAPHY