The Final Show and Crowning on Saturday May 16th @ 7:30pm. Miss Universe Canada 2008,
Samantha Tajik
, will crown her successor at the end of beauty contest. The Beauty Queen Miss Universe Canada 2009 will represent her country in the Miss Universe competition pageant.
Miss Universe 2009
, the 58th Miss Universe beauty pageant, will be held at the Atlantis Paradise Island, in Nassau,
Bahamas
on August 23, 2009.
Dayana Mendoza
, from Venezuela, winner of
Miss Universe 2008
, will crown her successor in the event.
Melissa Porretta
AGE: 25 | HEIGHT: 5'7" | HOMETOWN: MONTREAL, QC
Melissa was born in Montreal, Canada. From a very young age, Melissa had in interest in education and ended up in the Golden book of the year in the primary school. In her youth she continued her studies with many interests in acting, modeling, sports, reading, and has been an honour student her first year of high school.
Born to Italian Canadian parents, Melissa loves to learn different cultures. The time she traveled in Italy, she learnt her grandparents and great grandparent's traditions. She also would like to travel worldwide to see and gain knowledge of all different cultures that shape and enrich her view of this earth.
She loves her family and is always there for them. Since last year, Melissa has been a volunteer for St-Justine Hospital for Sick Children. Her inner strength and goodwill allows her to work with and to show her caring for those children with cancer and other diseases that are on treatment.
Melissa is studying in College and will soon attend University of Montreal in education. Her goal is to expand her knowledge in this field and teach the beauty of this world that surround around us in an honest society with compassion and justice.
Courtesy: beautiesofcanada.com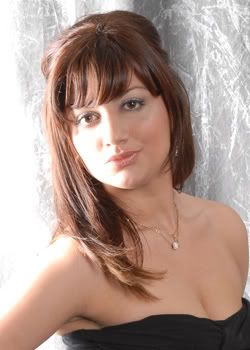 Video: Interview Melissa Porretta - Miss Universe Canada 2009 Contestant
meet:
other contestants
RELATED BEAUTY PAGEANTS PHOTOGRAPHY