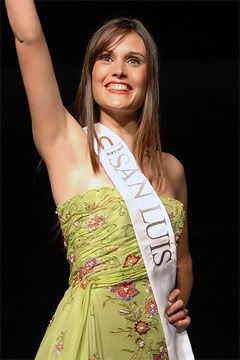 Miss Mundo Argentina annual pageant, Evelyn Lucía Manchón, a beautiful 22 year-old was crowned Miss Mundo Argentina 2009 during the event held on 17th May 2009.
A new beauty queen of Argentina will represent her country at the
Miss World 2009
pageant.
Miss World 2009
, the 59th Miss World beauty pageant will be held in Johannesburg, South Africa, where
Ksenia Sukhinova
of Russia will crown her successor,
Miss World 2008
. About 120 contestants are expected to attend the event.
Crownd favourite, Mercedes Viaña, 18 year-old, was judged first runner-up ( will go to Miss International 2009). While Gisela Menossi, 21 year-old, Ayrshire was secound runner-up ( will go to Miss Earth 2009).
Miss Argentina World and International 2009 Completed Results
* Miss Mundo Argentina 2009 - Evelyn Lucía Manchón ( will go to Miss World 2009)
* 1st RU - Mercedes Viaña ( will go to Miss International 2009)
* 2nd RU - Gisela Menossi ( will go to Miss Earth 2009)
* 3rd RU - Gema Pineda (San Juan)
* 4th RU - Belén Fernández (Corrientes)
TOP 10
• Débora Quiroga (Santa Fe)
• Guadalupe Ferreira (Catamarca)
• Micaela López (Salta)
• Johanna Milsztejn (Tucumán)
• Paulina Becher (La Pampa)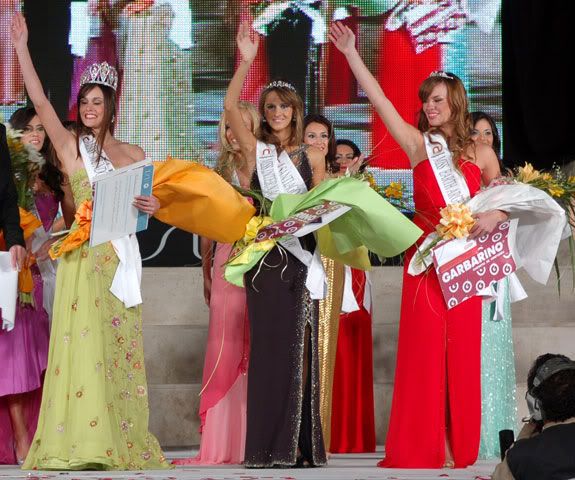 TOP 3
Miss Mundo Argentina 2009 - Evelyn Lucía Manchón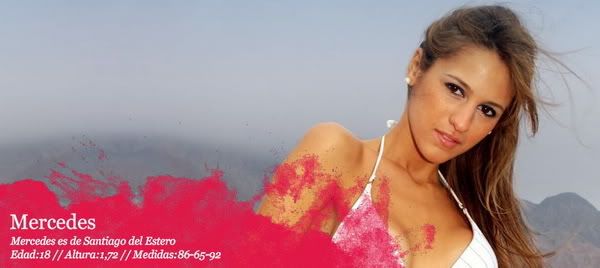 1st RU - Mercedes Viaña ( will go to Miss International 2009)
2nd RU - Gisela Menossi ( will go to Miss Earth 2009)
Video: Miss Argentina World and International 2009
RELATED BEAUTY PAGEANTS PHOTOGRAPHY