The Final Show and Crowning on Saturday May 16th @ 7:30pm. Miss Universe Canada 2008,
Samantha Tajik
, will crown her successor at the end of beauty contest. The Beauty Queen Miss Universe Canada 2009 will represent her country in the Miss Universe competition pageant.
Miss Universe 2009
, the 58th Miss Universe beauty pageant, will be held at the Atlantis Paradise Island, in Nassau,
Bahamas
on August 23, 2009.
Dayana Mendoza
, from Venezuela, winner of
Miss Universe 2008
, will crown her successor in the event.
Natasha Petersen
AGE: 18 | HEIGHT: 5'9" | HOMETOWN: VANCOUVER, BC
Natasha currently attends university at the International Study Center at Herstmonceux Castle in England on an exchange with Queen's University. She was born in Amsterdam to Danish parents, and raised in Vancouver.
As a champion debater, public speaker and diplomat, Natasha has participated in and led several Model United Nations and leadership conferences, been a peer tutor in mathematics, a member of several social justice groups, a senior editor of her high school newspaper as well as an executive student council member.
Natasha has also participated in karate, basketball, snowboarding and rock-climbing consistently for many years. She plans on finishing her university degree in international business, and later in life, becoming the Foreign Affairs Minister for Canada.
Courtesy: beautiesofcanada.com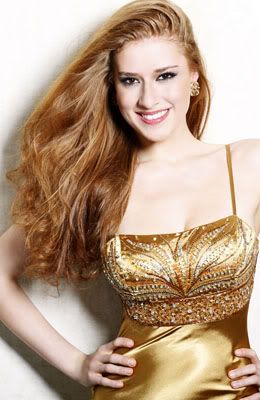 Video: Interview Natasha Petersen - Miss Universe Canada 2009 Contestant
meet:
other contestants
RELATED BEAUTY PAGEANTS PHOTOGRAPHY