The Final Show and Crowning on Saturday May 16th @ 7:30pm. Miss Universe Canada 2008,
Samantha Tajik
, will crown her successor at the end of beauty contest. The Beauty Queen Miss Universe Canada 2009 will represent her country in the Miss Universe competition pageant.
Miss Universe 2009
, the 58th Miss Universe beauty pageant, will be held at the Atlantis Paradise Island, in Nassau,
Bahamas
on August 23, 2009.
Dayana Mendoza
, from Venezuela, winner of
Miss Universe 2008
, will crown her successor in the event.
Perla Marcano Urena
AGE: 19 | HEIGHT: 5'6" | HOMETOWN: BLAINVILLE, QC
Perla Marcano Urena is 19 years old; her parents are from the Dominican Republic and she was born and raised in Montreal Quebec until the age of 10. She then moved to Vancouver B.C. until the age of 18, then destiny brought her back to her hometown, Montreal where she currently resides. Perla proudly speaks three languages fluently, Spanish, French and English.
Perla believes as an individual it is hard to change the world but as long as she touches one person's heart it is a great achievement. She takes pride in the fact that her family and friends describe her as an optimistic idealist, and that she has usually provided positive energy in their company.
Courtesy: beautiesofcanada.com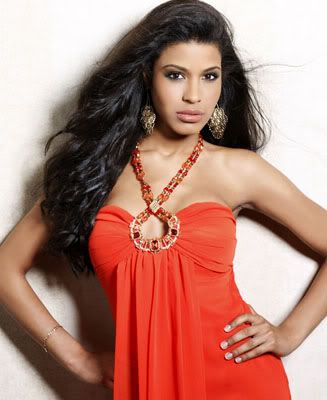 Video: Interview Perla Marcano - Miss Universe Canada 2009 Contestant
meet:
other contestants
RELATED BEAUTY PAGEANTS PHOTOGRAPHY