The Final Show and Crowning on Saturday May 16th @ 7:30pm. Miss Universe Canada 2008,
Samantha Tajik
, will crown her successor at the end of beauty contest. The Beauty Queen Miss Universe Canada 2009 will represent her country in the Miss Universe competition pageant.
Miss Universe 2009
, the 58th Miss Universe beauty pageant, will be held at the Atlantis Paradise Island, in Nassau,
Bahamas
on August 23, 2009.
Dayana Mendoza
, from Venezuela, winner of
Miss Universe 2008
, will crown her successor in the event.
Ravi Bansal
AGE: 24 | HEIGHT: 5'8" | HOMETOWN: BURNABY, BC
Ravi Bansal was born and raised in beautiful British Columbia. Ravi grew up in the city of Burnaby with her Parent's, grandmother, two younger sisters and brother. Her Parents were born and raised in India and moved to Canada intrigued by the multicultural society; which has allowed Ravi to appreciate and practice both Indian and Canadian values simultaneously.
Ravi has received her degree in Arts & Social Sciences from Simon Fraser University, graduating as the Valedictorian of her class.
Ravi believes her social responsibility is to end the sex trade industry in India & China. She has begun to move towards her goal by creating a foundation called Gayannh with her dance team SFU Girls Giddha. The foundation aims to provide women and children with unfortunate circumstances greater opportunities including education, health-care, sustainable housing and microcredits.
Courtesy: beautiesofcanada.com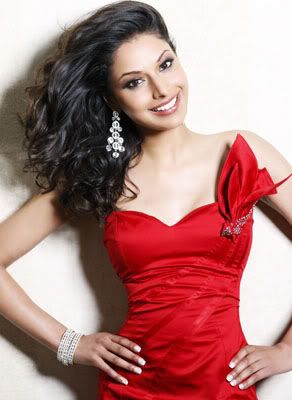 Video: Interview Ravi Bansal - Miss Universe Canada 2009 Contestant
meet:
other contestants
RELATED BEAUTY PAGEANTS PHOTOGRAPHY