The Final Show and Crowning on Saturday May 16th @ 7:30pm. Miss Universe Canada 2008,
Samantha Tajik
, will crown her successor at the end of beauty contest. The Beauty Queen Miss Universe Canada 2009 will represent her country in the Miss Universe competition pageant.
Miss Universe 2009
, the 58th Miss Universe beauty pageant, will be held at the Atlantis Paradise Island, in Nassau,
Bahamas
on August 23, 2009.
Dayana Mendoza
, from Venezuela, winner of
Miss Universe 2008
, will crown her successor in the event.
Sonya Durante
AGE: 26 | HEIGHT: 5'11" | HOMETOWN: VANCOUVER, BC
Sonya was born in Vancouver to Australian and English parents and began gaining stage experience working as a fashion model at the age of 15. She's appeared in magazines, advertising, music videos, TV shows and walked the catwalk locally and internationally for close to 10 years.
She graduated from Simon Fraser University in British Columbia, with a bachelor of Business Degree, specializing in finance, marketing and communications. While completing her degree, she spent a year abroad studying art and history outside of London, England. She currently works for L'Oreal Canada, and hopes to further her professional experience with them.
As a child, Sonya was active in tap, Hawaiian dance, gymnastics, swimming, skiing and piano. But her love for experiencing different cultures through traveling has led her around the globe.
Courtesy: beautiesofcanada.com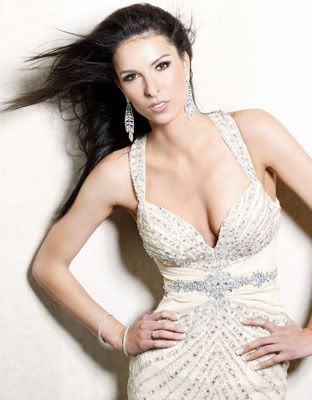 Video: Interview Sonya Durante - Miss Universe Canada 2009 Contestant
meet:
other contestants
RELATED BEAUTY PAGEANTS PHOTOGRAPHY