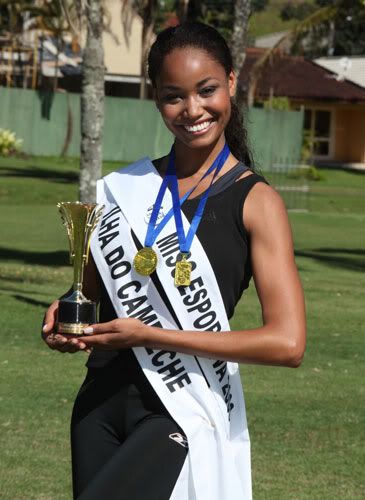 Anelise Laulau, Miss Campeche wins the Sportswoman Brazil 2009
Anelise Laulau, Miss Ilha do Campeche won the Miss Sportswoman Brazil 2009 fast-track event award. Anelise Laulau became the first Miss World Brazil 2009 contestant to advance to the semi-finals.
Two other islands was second and third placed, respectively. Elisa Hoeppers, Miss Ilha de Santa Catarina, who took silver, and Raquel Peddoni, Miss Fernando de Noronha, winner of the bronze medal.
The lovely 38 candidates were divided in 4 groups as Spice Green, Together and MixSSed, Red Roses, and Green Girls. They all played volleyball, soccer, and golf.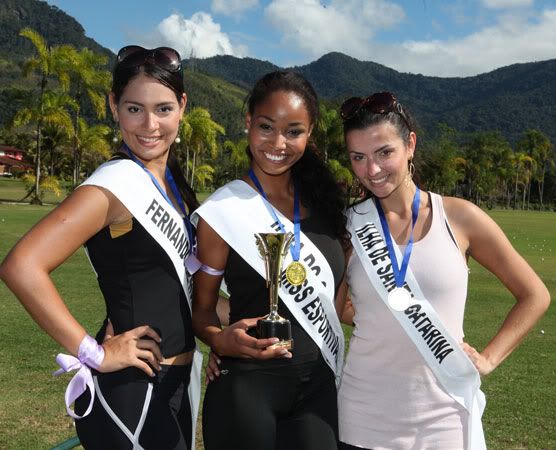 Miss Fernando de Noronha (3rd), Miss Campeche (winner) and Miss Santa Catarina Island (2nd)Soccer time! Miss Federal District plays Beach volleyball.
Miss Mundo Brasil 2009
Beauty contest will be complete on 4 July at Hotel do Frade, Angra dos Reis.
Miss Mundo Brasil 2008
,
Tamara Almeida Silva
of Minas Gerais, will crown her successor at this event. The show will be telecast to the whole country by CNT.
The Beauty queen
Miss World Brasil 2009
will compete representing her country at the
2009 Miss World
Contest.
Miss World 2009
, the 59th Miss World beauty pageant will be held in Johannesburg, South Africa, where
Ksenia Sukhinova
of Russia will crown her successor,
Miss World 2008
. About 120 contestants are expected to attend the event.
RELATED BEAUTY INTERNATIONAL PAGEANTS