Star Hellas 2009: Viviana Kampanile – Zagorianakou

Newly beauty queen,
Viviana Kampanile – Zagorianakou
19 year-old was crowned Star Hellas 2009. While A graceful 23 year-old
Alkisti Anyfanti
was chosen Miss Hellas 2009
Viviana Kampanile
who stand 180 cm will represent Greeke in
2009 Miss Universe
Beauty Pageant. and beauty girl 176 cm
Alkisti Anyfanti
will compete in
2009 World Beauty
Contest.
Still can not believe how Igropoulou Diana lost the title Star of Greece and stayed with the Runner up of Star Hellas! Many thought that Diana was the favorite for the title of top beauty contest, because it was the most visible ( see her face after lost the title at below )
Miss Universe 2009
, the 58th Miss Universe beauty pageant, will be held at the Atlantis Paradise Island, in Nassau,
Bahamas
on August 23, 2009.
Dayana Mendoza
, from Venezuela, winner of
Miss Universe 2008
, will crown her successor in the event.
Miss World 2009
, the 59th Miss World beauty pageant will be held in Johannesburg, South Africa, where
Ksenia Sukhinova
of Russia will crown her successor,
Miss World 2008
. About 120 contestants are expected to attend the event.
Miss Greece 2009 Competitve Results
* Star Hellas 2009:
Viviana Kampanile – Zagorianakou
( goto Miss Universe 2009 )
* Star Hellas runner-up:
Diana Igropoulou
( goto Miss Earth 2009 )
* Miss Hellas:
Alkisti Anyfanti
( goto Miss World 2009 )
* Miss Hellas runner-up:
Margarita Papandreou
( goto Miss International 2009 )
* Miss Young:
Katerina Skourli
* Miss Young runner-up:
Joanna Papayiannis
* Miss Tourism 2009:
Christiana Gargaropoulou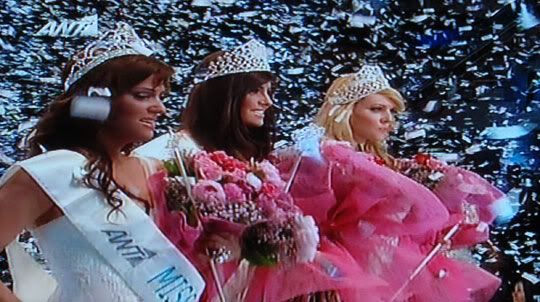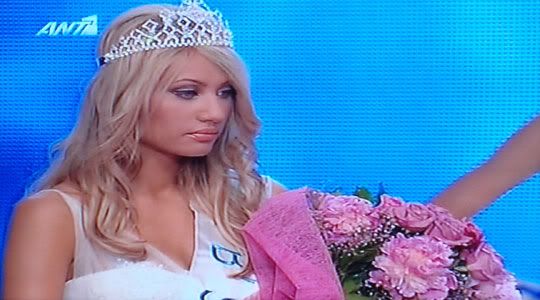 Igropoulou Diana : 1st Runner up Star Hellas 2009
Igropoulou Diana : 1st Runner up Star Hellas 2009
Igropoulou Diana : 1st Runner up Star Hellas 2009
Igropoulou Diana : 1st Runner up Star Hellas 2009
Courtesy photo: xblog.gr
RELATED BEAUTY INTERNATIONAL PAGEANTS