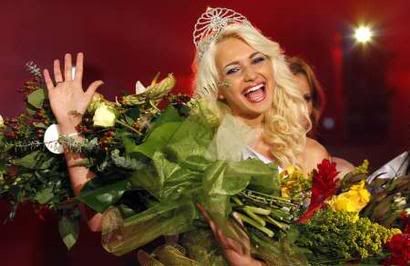 Elena Bianca Constantin, Miss Universe Romania 2009

BUCHAREST: Newly Beauty Queen crowned Miss Universe Romania 2009. A Beautiful 20 year-old
Elena Bianca Constantin
was crowned Miss Universe Romania 2009 during the pageant held in Bucharest, the capital of Romania on last Saturday 27 June 2009 with the
graceful 23 candidates
.
Elena Bianca Constantin , who stall 1.74 m was crowned Miss Universe Romania 2009 by the current
Miss Universe 2008
,
Dayana Mendoza
from Venezuela. The beautiful Elena Bianca Constantin will represent Romanian at
2009 Miss Universe
beauty pageant.
Miss Universe 2009
, the 58th Miss Universe beauty pageant, will be held at the Atlantis Paradise Island, in Nassau,
Bahamas
on August 23, 2009.
Dayana Mendoza
, from Venezuela, winner of
Miss Universe 2008
, will crown her successor in the event.
Video: Miss Universe Romania 2009 Crowning
Video: Dayana Mendoza Romanian Dancing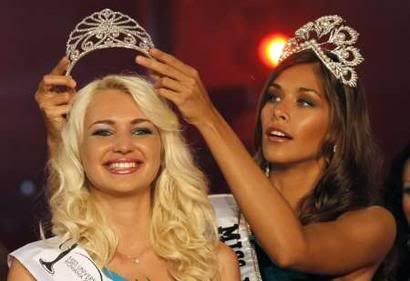 Elena Bianca Constantin was crowned Miss Universe Romania 2009
by the current Miss Universe 2008 Dayana Mendoza
Elena Bianca Constantin was crowned Miss Universe Romania 2009
by the current Miss Universe 2008 Dayana Mendoza
L: Elena Bianca Constantin , Miss Universe Romania 2009
R: Dayana Mendoza, Miss Universe 2008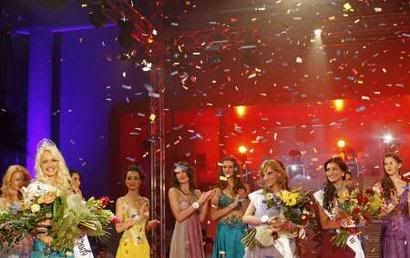 L: Elena Bianca Constantin , Miss Universe Romania 2009
L-R : Elena Bianca Constantin , Miss Universe Romania 2009
in a full length dress, a traditional folk costume
and a swim suit during the Miss Universe Romania contest
RELATED BEAUTY INTERNATIONAL PAGEANTS