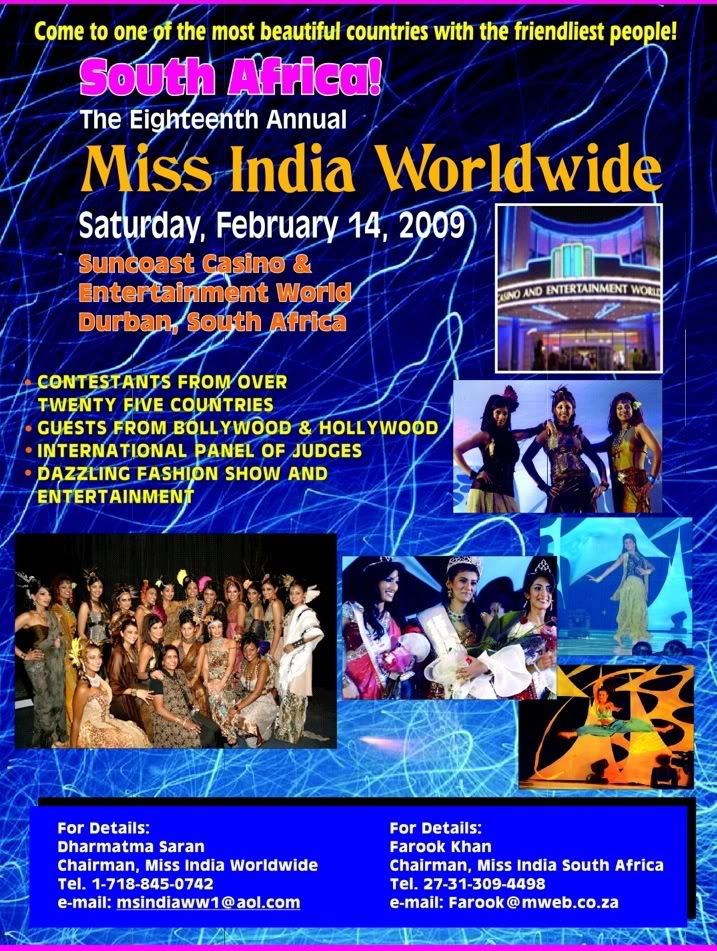 Miss India Worldwide 2009 was won by US girl NIKKITASHA MARWAHA. It took place on Valentine's Day Saturday, Febuary 14, 2009 at International Convention Center Durban, South Africa. 25 contestants competed for the title. It was the second consecutive pageant held in South Africa after one in Johannesburg last year.
American communications student Nikkitasha Marwaha 19-year-old beat 24 other entrants from every corner of the globe at the 18th version of the
Miss India Worldwide
pageant started by Dharmatma Saran of New York to crown on title Miss India Worldwide 2009, previously held by
Shagun Sarabhai
from India.
Incidentally Nikkitasha has also in the past, won the title of Miss India USA 2008, Miss India DC 2007, Miss America's Miss Junior Teen 2006 and was the winner of the 2007 USA Boogie Woogie dance contest.

TOP 3 - Miss India Worldwide 2009
Miss India Worldwide 2009 Results



Nikkitasha Marwaha
Miss India USA


Kanchan Verma
Miss India Auatralia


Sunaina Bhoendie
Miss India Holland

* Miss India Worldwide 2009 : Nikkitasha Marwaha, 19 year-old ( Miss India USA 2008)
* 1st runner-up :
Kanchan Verma
, 23 year-old ( Miss India Australia 2008)
* 2nd runner-up : Sunaina Bhoendie, 20 year-old ( Miss India Holland 2008)
RELATED BEAUTY PAGEANT