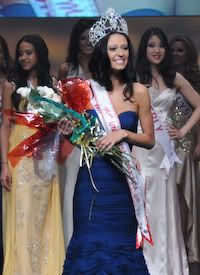 The 59th Annual Miss Universe® Canada Pageant. 62 Delegates from across Canada will compete for the title of Miss Universe® Canada 2010 on Wednesday June 2nd and Friday June 4th, 2010.
The contestants will attend Pageant activities and spend time getting to know each other, rehearsing for the show, and visiting Toronto and the surrounding area.
Meet the 62 contestants competing for the title of Miss Universe Canada 2010. The competition will take place at The Metro Toronto Convention Centre's John Bassett Theatre.
Mariana Valente
,
Miss Universe Canada 2009
will crown her successor at the end of the pageant.
Meet Miss Universe Canada 2010 Official Contestants



Miss Universe Canada
Contestant 01
Aleksandra Malkin
Concord, ON
1st RU



Miss Universe Canada
Contestant 02
Alesia Ibrahim
Ottawa, ON



Miss Universe Canada
Contestant 03
Andrea Bennett
Ottawa, ON



Miss Universe Canada
Contestant 04
Ania Bureacenco
White Rock, BC
Top12



Miss Universe Canada
Contestant 05
Ashley Avery
Clarenville, NL



Miss Universe Canada
Contestant 06
Ashley Callingbull
Enoch, AB
2nd RU



Miss Universe Canada
Contestant 07
Ava Ferdowsmakan
Markham, ON
Top12



Miss Universe Canada
Contestant 08
Aylar Macky
Calgary, AB



Miss Universe Canada
Contestant 09
Belinda Kim
Toronto, ON



Miss Universe Canada
Contestant 10
Bianca Gaudreault
Montreal, QC



Miss Universe Canada
Contestant 11
Breanna Palmer
Calgary, AB



Miss Universe Canada
Contestant 12
Caroline Carsted
Vancouver, BC



Miss Universe Canada
Contestant 13
Danielle Gray
Calgary, AB



Miss Universe Canada
Contestant 14
Dezeraie Topuschak
Calgary, AB



Miss Universe Canada
Contestant 15
Diana Varvarici
Vaughn, ON



Miss Universe Canada
Contestant 16
Divine Uwikirezi
Verdun, QC
Top12



Miss Universe Canada
Contestant 17
Elena Semikina
Toronto, ON
Winner



Miss Universe Canada
Contestant 18
Emily Hurtubise
Kirkland, QC



Miss Universe Canada
Contestant 19
Fawnia Robitaille
Victoria, BC



Miss Universe Canada
Contestant 20
Golnaz Harandi
West Vancouver, BC



Miss Universe Canada
Contestant 21
Heidi-Rose Cholod
Montreal, QC



Miss Universe Canada
Contestant 22
Jamie Molz
Burnaby, BC



Miss Universe Canada
Contestant 23
Jelena Pejic
Kitchener, ON



Miss Universe Canada
Contestant 24
Jennifer Wheater
Oakville, ON



Miss Universe Canada
Contestant 25
Jocelyn Symborski
Lethbridge, AB



Miss Universe Canada
Contestant 26
Katie Starke
Uxbridge, ON
Top12



Miss Universe Canada
Contestant 27
Kim Larivée
Lachenaie, QC



Miss Universe Canada
Contestant 28
Krista Hakeman
Golden, BC



Miss Universe Canada
Contestant 29
Kristina Lavallee
Okotoks, AB



Miss Universe Canada
Contestant 30
Laudia Yambala
Montreal, QC



Miss Universe Canada
Contestant 31
Leah Marinelli
Ottawa, ON



Miss Universe Canada
Contestant 32
Maria Al-Masani
Ottawa, ON



Miss Universe Canada
Contestant 33
Maria Mejia
Montreal, QC



Miss Universe Canada
Contestant 34
Martine Marquis
Gatineau, QC



Miss Universe Canada
Contestant 35
Megan Franklin
St. Catharines, ON



Miss Universe Canada
Contestant 36
Megan Maycher
Coquitlam, BC



Miss Universe Canada
Contestant 37
Meghan Rountree
Red Deer, AB



Miss Universe Canada
Contestant 38
Michelle Banham
Calgary, AB



Miss Universe Canada
Contestant 39
Natasha Boras
Edmonton, AB



Miss Universe Canada
Contestant 40
Neda Derakhshanfar
Calgary, AB
3rd RU



Miss Universe Canada
Contestant 41
Netasha Ramganesh
Brampton, ON



Miss Universe Canada
Contestant 42
Nicole Fleck
Estevan, SK



Miss Universe Canada
Contestant 43
Paisley McNab
Hamilton, ON



Miss Universe Canada
Contestant 44
Paniz Yousefzadeh
N. Vancouver, BC
Top12



Miss Universe Canada
Contestant 45
Polina Lukashova
North York, ON
Top12



Miss Universe Canada
Contestant 46
Rachel Esquieres
Richmond, BC



Miss Universe Canada
Contestant 47
Rama Diallo
N. Vancouver, BC



Miss Universe Canada
Contestant 48
Rhandi Burton
DeBolt, AB



Miss Universe Canada
Contestant 49
Sanaz Ardebili
Coquitlan, BC



Miss Universe Canada
Contestant 50
Sandra Kirilovic
Niagara Falls, ON



Miss Universe Canada
Contestant 51
Sarah Bernier
Drummondville, QC



Miss Universe Canada
Contestant 52
Solange Tuyishime
Orleans, ON



Miss Universe Canada
Contestant 53
Sonal Singh
Surrey, BC



Miss Universe Canada
Contestant 54
Sophie Froment
Gatineau, QC



Miss Universe Canada
Contestant 55
Stephanie Marinus
SE Highriver, AB



Miss Universe Canada
Contestant 56
Summer Anne Ross
Belle River, ON



Miss Universe Canada
Contestant 57
Tanja Pooley
Surrey, BC



Miss Universe Canada
Contestant 58
Tatiana Toro
Montreal, QC



Miss Universe Canada
Contestant 59
Theresa Crame
Vancouver, BC
Top12



Miss Universe Canada
Contestant 60
Tiffany Munro
Edmonton, AB



Miss Universe Canada
Contestant 61
Zahra Al-Aubiydy
Orleans, ON
4th RU



Miss Universe Canada
Contestant 62
Zhanna Shishko
Surrey, BC


RELATED BEAUTY PAGEANT CONTEST