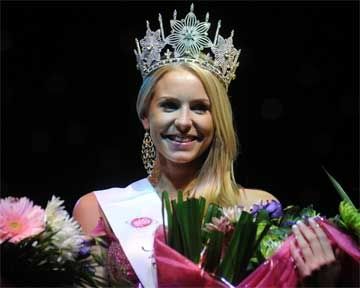 Lucy Whitehouse - Miss Wales 2009
Miss Wales 2010 Grand Final will be held at St David's Hall, The Hayes, Cardiff on Saturday 26 June 2010.
Lucy Whitehouse, Miss Wales 2009
will crown her successor at the end of this event. 49 beautiful lady will compete for the title.
New beauty queen Miss Wales 2010 will represent the country at
Miss Universe 2010
beauty pageant.
The Miss Wales 2010 Finalists



# 01
Sammy Jo Archer
21 years
Wrexham




# 02
Lucy Boyd
21 years
Powys




# 03
Michelle Chamberlain
19 years
Merthyr Tydfil




# 04
Stephanie Davey
21 years
Penarth




# 05
Jessica Davies
17 years
Aberystwyth




# 06
Lowri Davies
21 years
Llanelli




# 07
Ella Desmond-Williams
21 years
Bridgend




# 08
Lysette Dyer
19 years
Port Talbot




# 09
Lorraine Francis
22 years
Tal Y Bont



# 10
Stacey Freeman
20 years
Cwmbran




# 11
Summer Ghanavati
20 years
Cardiff
1st RU Miss Wales 2010



# 12
Courtenay Hamilton
20 years
LLantwit Major
Winner Miss Wales 2010



# 13
Rebecca Hansen
20 years
Pembroke




# 14
Rebecca Hearne
23 years
Porthcawl




# 15
Kayleigh Jenkins
22 years
Merthyr Tydfil




# 16
Lisa-Jade Jones
22 years
Tonypandy




# 17
Sophie Jones
17 years
Holywell




# 18
Charmaine Lewis
21 years
Swansea




# 19
Gemma Lewis
21 years
Llanelli




# 20
Lauren Jade Lewis
21 years
Pontypool




# 21
Margo Midwinter
19 years
Port Talbot




# 22
Laura Minahan
24 years
Caerphilly




# 23
Lyndsey Morgan
23 years
Blackwood




# 24
Laura Morris
22 years
Swansea




# 25
Alize Mounter
21 years
Beddau




# 26
Anna Murphy
21 years
Cardiff




# 27
Jessica O'Neill
17 years
Aberdare




# 28
Jade Owens
18 years
Brymbo




# 29
Rumur Phillips
16 years
Port Talbot




# 30
Danika Plumley
17 years
Devauden




# 31
Katie Press
19 years
Barry




# 32
Angharad Robinson
22 years
Cardiff




# 33
Lauren-Eve Rowley
21 years
Deeside




# 34
Chloe Scott
18 years
Conwy




# 35
Lydia Shaw
19 years
Aberystwyth




# 36
Lara Stephen
17 years
Powys




# 37
Hannah Surman
24 years
Llanelli




# 38
Kathleen Thomas
19 years
Manorbier




# 39
Lauren Thomas
18 years
Tredegar




# 40
Nicola Thomas
23 years
Caerphilly




# 41
Chloe Trapnell
19 years
Ebbw Vale




# 42
Katharine Watson
21 years
Abergele




# 43
Sophie Webster
17 years
Chepstow




# 44
Ami White
18 years
Haverfordwest




# 45
Emily Wilkinson
19 years
Dyserth




# 46
Jade Williams
17 years
Ammanford




# 47
Jamie Williams
23 years
Powys
2nd RU Miss Wales 2010




# 48
Abee Morgan
17 years
Monmouthshire




#
49
Katie Withington
24 years
Haverfordwest



Wales Beauty Pageants