Elena Bianca Constantin was crowned Miss Universe Romania 2009
by Miss Universe 2008 Dayana Mendoza
Miss Universe Romania 2010 will held on July 9th, 2010. "Kingdom of Beauty" will be a special edition broadcast on TVR 1 on 8 July at 21.20, where you will be presented the 30 finalists in the Miss Universe contest in 2010 Romania. And will be a full dress show, broadcast live on TVR 1, TVR International and www.tvr.ro on July 9, 2010, at 21.10.
Elena Bianca Constantin
,
Miss Universe Romania 2009
, will crown her successor at the end of this event. 30 beauties from around the country are expected to compete for the title.
The winner Miss Universe Romania 2010 will be the representative her country at the
Miss Universe 2010
beauty pageant.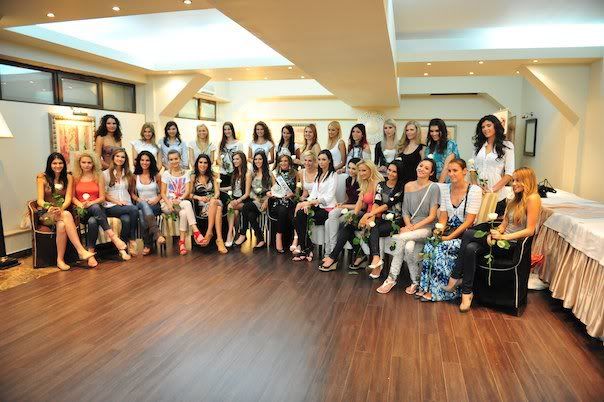 30 beauties Miss Universe Romania 2010 Finalists
Swimsuit Miss Universe Romania 2010 Finalists




Miss Unverse Romania 2010
Finalist # 01
Fliundra Andrada





Miss Unverse Romania 2010
Finalist # 02
Muntean Diana Monica





Miss Unverse Romania 2010
Finalist # 03
Lungu Simona Elena





Miss Unverse Romania 2010
Finalist # 04
Apachitei Sandra





Miss Unverse Romania 2010
Finalist # 05
Costea Adelina





Miss Unverse Romania 2010
Finalist # 06
Golban Maria





Miss Unverse Romania 2010
Finalist # 07
Ciuca Gemina Lavinia





Miss Unverse Romania 2010
Finalist # 08
Mogos Alina





Miss Unverse Romania 2010
Finalist # 09
Bursuc Alexandra





Miss Unverse Romania 2010
Finalist # 10
Briota Mihaela Luiza





Miss Unverse Romania 2010
Finalist # 11
Gomoescu Catalina





Miss Unverse Romania 2010
Finalist # 12
Plesca Anca Eliza





Miss Unverse Romania 2010
Finalist # 13
Chelariu Mihaela





Miss Unverse Romania 2010
Finalist # 14
Sandru Roxana Marilena





Miss Unverse Romania 2010
Finalist # 15
Carlan Luiza Raluca





Miss Unverse Romania 2010
Finalist # 16
Paraschivoiu Roxana Ioana





Miss Unverse Romania 2010
Finalist # 17
Popa Maria Larisa





Miss Unverse Romania 2010
Finalist # 18
Olaru Beatrice Andreea





Miss Unverse Romania 2010
Finalist # 19
Pacurar Sorana Paula





Miss Unverse Romania 2010
Finalist # 20
Cristescu Alexandra





Miss Unverse Romania 2010
Finalist # 21
Filip Alexandra Catalina
Winner
Miss Universe Romania 2010





Miss Unverse Romania 2010
Finalist # 22
Anghelescu Ana Maria





Miss Unverse Romania 2010
Finalist # 23
Munteanu Andreea Cristina





Miss Unverse Romania 2010
Finalist # 24
Paveluc Oana





Miss Unverse Romania 2010
Finalist # 25
Toparceanu Livia Mirela





Miss Unverse Romania 2010
Finalist # 26
Mocanu Anda-Elena





Miss Unverse Romania 2010
Finalist # 27
Hanescu Irina





Miss Unverse Romania 2010
Finalist # 28
Badarau Andreia





Miss Unverse Romania 2010
Finalist # 29
Balan Dorina





Miss Unverse Romania 2010
Finalist # 30
Bledea Maria



Romania Beauty Pageants