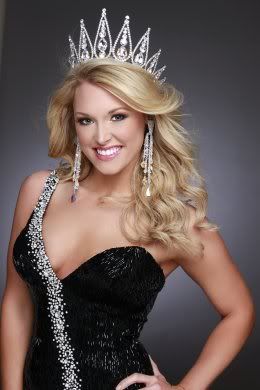 Erin Golden - Miss International® 2009
The Miss International® 2010 competition will be held July 23rd and 24th, 2010 at the Northshore Center for the Performing Arts in Chicago, Illinois. Miss International® 2009, Erin Golden of Miss Southeast International™ will crown her successor at the end of the event.
Note: This pageant is not
Miss International 2010
which held in Chengdu, China and organized by International Culture Association.
Check out the VDO of 33 Glamorous candidates are expected to compete for the title.
Miss International® 2010 Contestasnts List
| | | |
| --- | --- | --- |
| 01 | Miss Alabama International™ | - Kelley Gibson |
| 02 | Miss Arkansas International™ | - Kohl McCone |
| 03 | Miss California International™ | - Gretheel Olvera |
| 04 | Miss Cameroon International™ | - Mirabel Toh |
| 05 | Miss Canada International™ | - Solange Tuyishime |
| 06 | Miss Colorado International™ | - Tracy Register |
| 07 | Miss Connecticut International™ | - Erin Vivero |
| 08 | Miss District of Columbia International™ | - Chelsey Rodgers |
| 09 | Miss Florida International™ | - Alicia Benz |
| 10 | Miss Georgia International™ | - Lauren Arnold |
| 11 | Miss Idaho International™ | - Lacey Vander Boegh |
| 12 | Miss Illinois International™ | - Ashley Newman |
| 13 | Miss Indiana International™ | - Christina DeVoe |
| 14 | Miss Kansas International™ | - Erica Enstrom |
| 15 | Miss Maine International™ | - Kimberly Scarduzio |
| 16 | Miss Maryland International™ | - Heather Young |
| 17 | Miss Minnesota International™ | - Carolina Reyes |
| 18 | Miss Missouri International™ | - Ali Glaser |
| 19 | Miss Nevada International™ | - Brittany Williams |
| 20 | Miss New Jersey International™ | - Brielle LaCosta |
| 21 | Miss New York International™ | - Jacqueline Brooks |
| 22 | Miss North Carolina International™ | - Kristie Tobias |
| 23 | Miss North Dakota International™ | - Alyson Wilhelmi |
| 24 | Miss Ohio International™ | - Courtney Crain |
| 25 | Miss Oklahoma International™ | - Anna Marie Costello |
| 26 | Miss Oregon International™ | - Monica Atkinson |
| 27 | Miss Pennsylvania International™ | - Tammie Kennedy |
| 28 | Miss South Carolina International™ | - Leslie Smith |
| 29 | Miss Tennessee International™ | - Jensen Hart |
| 30 | Miss Texas International™ | - Ashley Smith |
| 31 | Miss Virginia International™ | - Tamika Mills |
| 32 | Miss West Virginia International™ | - Michelle Walls |
| 33 | Miss Wisconsin International™ | - Alexandra Kealey |
United State Beauty Pageants
RELATED BEAUTY PAGEANT CONTEST