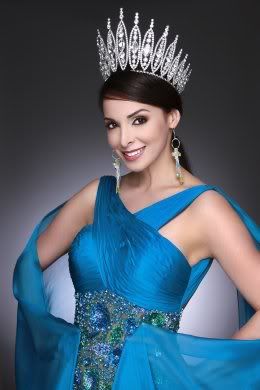 Armaiti Shahidi-Fitzgerald - Mrs. International® 2009
The Mrs. International® 2010 competition will be held July 16th and 17th, 2010 at the Northshore Center for the Performing Arts in Chicago, Illinois. Mrs. International® 2009, Armaiti Shahidi-Fitzgerald of Mrs. Middle East International™ will crown her successor at the end of the event.
Check out the VDO of 52 Beautiful candidates are expected to compete for the title.
Mrs. International® 2010 Contestasnts List
| | | |
| --- | --- | --- |
| 01 | Mrs. Alabama International™ | - Brandee Dupree |
| 02 | Mrs. Arizona International™ | - Amanda Grad |
| 03 | Mrs. Arkansas International™ | - Christina Stengel |
| 04 | Mrs. Australia International™ | - Carin Hillman-Varma |
| 05 | Mrs. California International™ | - Ashley Pavletich |
| 06 | Mrs. Canada International™ | - Amanda Lee |
| 07 | Mrs. Colorado International™ | - Roni Bibb |
| 08 | Mrs. Delaware International™ | - Juhi Jagiasi |
| 09 | Mrs. Florida International™ | - Donna Brown |
| 10 | Mrs. Georgia International™ | - Laura Giordano |
| 11 | Mrs. Hawaii International™ | - Kinsey Texeira |
| 12 | Mrs. Idaho International™ | - Brandi Townsend |
| 13 | Mrs. Illinois International™ | - Jennifer Naida |
| 14 | Mrs. India International™ | - Jyoti Mahajan |
| 15 | Mrs. Indiana International™ | - Rémy Branstetter |
| 16 | Mrs. Iowa International™ | - Feryl York |
| 17 | Mrs. Japan International™ | - Lucy Johnson |
| 18 | Mrs. Kansas International™ | - Crista Murdock |
| 19 | Mrs. Kentucky International™ | - Elaine Bateman |
| 20 | Mrs. Louisiana International™ | - Nancy-Ellen Martin |
| 21 | Mrs. Maryland International™ | - Angel McCoy |
| 22 | Mrs. Massachusetts International™ | - Jane Marshall |
| 23 | Mrs. Michigan International™ | - Toni Joerres |
| 24 | Mrs. Midwest International™ | - Rosanne Frazier |
| 25 | Mrs. Minnesota International™ | - Susie Overvold |
| 26 | Mrs. Mississippi International™ | - Amberlee Hayman |
| 27 | Mrs. Missouri International™ | - Amy Miller |
| 28 | Mrs. Nebraska International™ | - Vicki Klasell |
| 29 | Mrs. New Hampshire International™ | - Jennifer Mallios |
| 30 | Mrs. New Jersey International™ | - Heather Cunningham |
| 31 | Mrs. New Mexico International™ | - Bernadette Lopez |
| 32 | Mrs. New York International™ | - Rachel Raybourn |
| 33 | Mrs. North Carolina International™ | - Cynthia Griner |
| 34 | Mrs. North Dakota International™ | - Shelly Gompf |
| 35 | Mrs. Ohio International™ | - Heidi Scheer |
| 36 | Mrs. Oklahoma International™ | - Heidi Ducato |
| 37 | Mrs. Oregon International™ | - Deanna Bebeau |
| 38 | Mrs. Pennsylvania International™ | - Dixie Shaffer |
| 39 | Mrs. Philippines International™ | - Regina Aspiras |
| 40 | Mrs. Rhode Island International™ | - Anita Seraichyk |
| 41 | Mrs. South Carolina International™ | - LaShana Harmon-Goff |
| 42 | Mrs. South Dakota International™ | - Jessie Brower |
| 43 | Mrs. Southeast International™ | - Shannon Devine |
| 44 | Mrs. Southeast Asia International™ | - Zereana Jess-Huff |
| 45 | Mrs. Tennessee International™ | - Cydney Miller |
| 46 | Mrs. Texas International™ | -Natalie McLarty |
| 47 | Mrs. Utah International™ | - Janine Marquardson |
| 48 | Mrs. Virginia International™ | - Heather Thompson |
| 49 | Mrs. Washington International™ | - Julie Rzechula |
| 50 | Mrs. West Coast International™ | - Melanie DeMure |
| 51 | Mrs. Western States International™ | - Kimberly Takla |
| 52 | Mrs. Wisconsin International™ | - Melanie Cholka |
United State Beauty Pageants
RELATED BEAUTY PAGEANT CONTEST