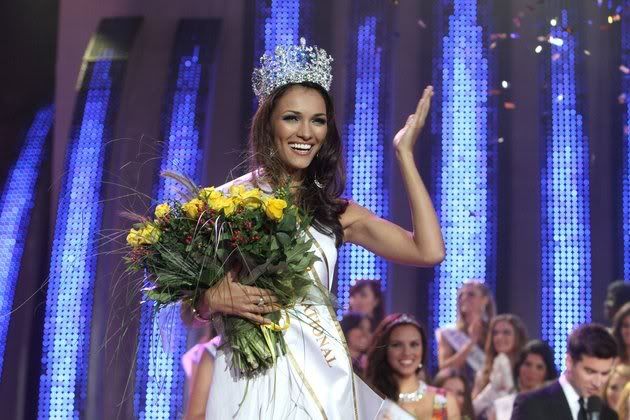 Miss Panama Karina Pinilla was crowned Miss Supranational 2010 at the beauty pageant held in Poland on August 28.
Karina Pinilla was 1st runner-up of
Realmente Bella Miss Panama 2008
and represented panama in Miss Atlantic International 2009 beauty pageant.
New winner 25 year old Karina Pinilla works as a Model Agency Director and also a student of Advertising and Merchandising.
Miss Supranational 2010 Complete Results:
* Miss Supranational 2010 Winner: Miss Panama, Karina Pinilla
* Miss Supranational 1st run-up: Miss Czech Republic, Hana Verna
* Miss Supranational 2nd run-up: Miss Slovenia, Sandra Marinovic
* Miss Supranational 3rd run-up: Miss Peru, Claudia Villafuerte
* Miss Supranational 4th run-up: Miss Thailand, Maythevee Buraparing




Watch Miss Panama Karina Pinilla was crowned Miss Supranational 2010


Continental Queens:
* Miss Supranational Africa: Miss Gambia, Fatou Khan
* Miss Supranational Americas: Miss Venezuela, Laksmi Rodriguez
* Miss Supranational Asia Pacific: Miss Korea, Soo Jung You
* Miss Supranational Europe: Miss Poland, Anna Jamroz
Miss Supranational 2010 Special Award
* Miss Friendship: Miss Canada, Pablita Thomas
* Miss Photogenic: Miss Slovenia, Sandra Marinovic
* Miss Internet: Miss Belgium, Chloe Groote
* Miss Personality: Miss Bahamas, Janay Pyfrom
* Top Model: Miss Russia, Evgeniya Shcherbakova
* Miss Elegance: Miss Sweden, Nina Sjolin
* Miss Talent: Miss Scotland, Emma Blythe
* Miss NC: Miss Panama, Karina Pinilla
* Best Body: Miss Finland, Johanna Ahlback
Miss Supranational 2010 Top 20
* Miss Korea, Soo Jung You
* Miss Colombia, Diana Martin
* Miss Brazil, Luciana Bertolini
* Miss Gambia, Fatou Khan
* Miss Venezuela, Laksmi Rodriguez
* Miss Romania, Laura Barzoiu
* Miss Lithuania, Egle Standtaite
* Miss Portugal, Olivia Ortiz
* Miss Albania, Anisa Mukaj
* Miss Belgium, Chloe Groote
* Miss Greece, Margarita Papandreou
* Miss Honduras, Lesly Kristoffp
* Miss Poland, Anna Jamroz
* Miss Russia, Evgeniya Shcherbakova
* Miss Finland, Johanna Ahlback
View more
* photos of
Miss Supranational 2010 Contestants
* more about
Miss Supranational Pageant, International Beauty Contest
*
ALBUM of Karina Pinilla - Miss Supranational 2010