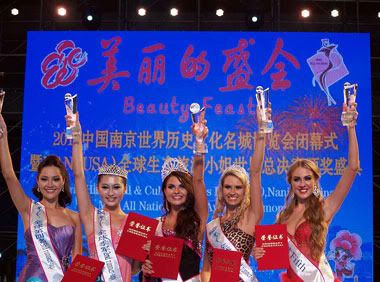 From Left: Thailand(3rd runner-up), China(2nd runner-up), Latvia(Winner),
Australia(1st runner-up), Russia(4th runner-up)
Diana Kubasova of Latvia was crowned Miss All Nations 2010 on Sunday October 24th in Nanjing, China. Diana Kubasova was the former Miss Earth Latvia 2009 and competed in Miss Earth 2009 pageant. She was also the 1st run-up at Miss Bikini International 2010.
Miss All Nations 2010 Final Results:
| | |
| --- | --- |
| * Winner | was Diana Kubasova of Latvia |
| * The first runner-up | was Ema Therese Masters of Australia |
| * The second runner-up | was Chen Ya Feng of China |
| * The 3rd runner-up | was Vasana Wongbuntree of Thailand |
| * The 4th runner-up | was Nadezda Vasilyeva of Russia |
Completing the semi-finalists Top16:
| | |
| --- | --- |
| * Miss Romania | Cristiana Mihaela Terecoasa |
| * Miss Moldova | Domnita Sajin (Top 15 Semi-finalists, Miss International Beauty 2009) |
| * Miss New Zealand | Alexandra Grace Scott |
| * Miss Sweden | Sara Elisabeth Weidenblad |
| * Miss Hong Kong | Zang Jia Qi |
| * Miss Kyrgyzstan | Altynai Ismankulova (Candidate, Miss International 2009 & Miss Tourism International 2009) |
| * Miss Qingdao | Jiao Yang 焦阳 |
| * Miss Greece | Gatou Argyro |
| * Miss Siberia | Ekaterina Epifanova |
| * Miss Yinchuan | Li jia hui |
| *Miss Venezuela | Charyl Marlyz Chacon Ramirez. |
Check out below are photos 55 beautiful contestants
Armenia
Australia
Beijing
Belarus
Bosnia
Bulgaria
Canada
China
Da Lian
England
Estonia
Germany
Greece
Hang Zhou
Hong Kong
India
Indonesia
Japan
Kazakhstan
Kenya
Korea
Kyrgyzstan
Lan Zhou
Latvia
Lithuania
LuoYang
Macau
Macedonia
Mexico
Malaysia
Moldova
Mongolia
Montenegro
Netherlands
New Zealand
Panama
Romania
Russia
Serbia
Shanghai
Shan Xi
Sweden
Siberia
Singapore
Taiwan
Tajikistan
Thailand
TianJin
TsingTao
Turkmenistan
Ukraine
Uzbekistan
Venezuela
Xi An
Yin Chuan