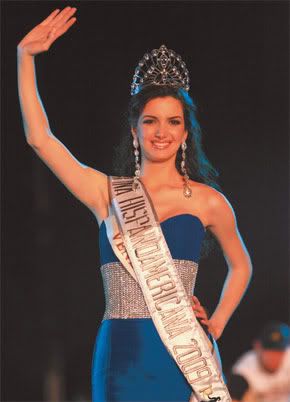 The annual 20th Reina Hispanoamericana, Reina Hispanoamericana 2010 beauty pageant will be held on November 24 in ExpoCruz Santa Cruz, Bolivia.
Adriana Vasini
of Venezuela,
Reina Hispanoamericana 2009
(photo above) will crown her successor at the end of the competition.
22 candidates will compete in the pageant and they were formally presented to the media on November 15. During their stay in Bolivia, the delegates will visit La Paz, Bolivia for video shots that will be shown during the pageant's coronation night including the shots taken in Santa Cruz.
Final pageant :
Caroline Medina Crowned Reina Hispanoamericana 2010
Chek out here are the 22 Official Contestants of 2010 Reina Hispanoamericana :

Miss Argentina
Yesica Natalia di Vincenzo
( 5th runner up )


Miss Bolivia
Maria Olivia Pinheiro Menacho
( 1st runner up )



Miss Brazil
Suymara Barreto Parreira
( 2nd runner up )


Miss Chile
Marie Ann Salas Gorboi



Miss Colombia
Maria Alejandra Franco Zapata



Miss Costa Rica
Angie Catalina Alfaro Loria



Miss Cuba
Viglis Viquillon



Miss Dominican Republic
Stephany Liriano Alcantara



Miss Ecuador
Lady Fernanda Mina Lastra



Miss El Salvador
Marcela Santamaria



Miss Guatemala
Ana Lucia Mazariegos Florentino



Miss Honduras
Adriana Gabriela Garcia Hernandez



Miss Mexico
Angeles Aguilar del Puerto



Miss Nicaragua
Indiana Maria Sanchez Sanchez



Miss Panama
Michelle Ostler



Miss Paraguay
Egni Analia Almiron Eckert
( Virreina )



Miss Peru
Alexandra Liao Tipacti



Miss Puerto Rico
Ivonne Reyes



Miss Spain
Raquel Lozano Fraile
( 3rd runner up )



Miss USA
Yildry Estefania Peña



Miss Uruguay
Stephany Ortega
( 4th runner up )



Miss Venezuela
Caroline Gabriela Medina Peschiutta
( Winner )


Related Beauty Pageant
* more about
Adriana Vasini
of Venezuela
* Miss Reina Hispanoamericana 2010 (
Caroline Medina
/ Contestants )
* Miss Reina Hispanoamericana 2009 (
Winner
/
Contestants
)
* Miss Reina Hispanoamericana 2008 (
Vivian Noronha
(successor)
/
Contestants
)
* Miss Reina Hispanoamericana 2008 (
Laura Zúñiga
(dethroned)
)