Midori Tanaka (L) Miss World Japan 2011 and
Kazumi Murayama (R) Miss International Japan 2011
The Miss Japan 2011 Contest
(ミス日本コンテスト,
Misu nippon kontesuto
) Japan National Conference elected Miss International and Miss World in 2011 (sponsored by the International Culture Association), July 20, held in Tokyo.
22 year old Kazumi (Nagomi) Murayama, students from Kanagawa, was crowned Miss International 2011. Meanwhile 22 year old Midori Tanaka from Okayama was chosen to Miss World Japan 2011.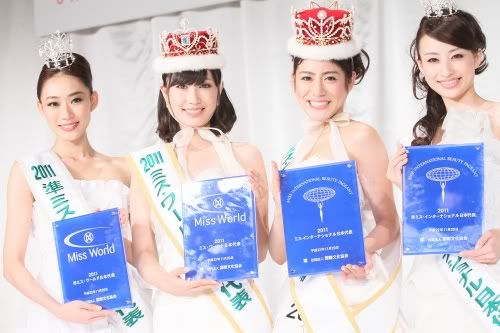 The finalists included
24 year old Nao Ichikawa (R), who was named as the Miss World runner-up, and
24 year old Asami Sakamoto (L), who was chosen as the Miss International runner-up.
Related Beauty Pageant
*
Miss World 2011
*
Miss International 2011
*
Japan Beauty Pageant