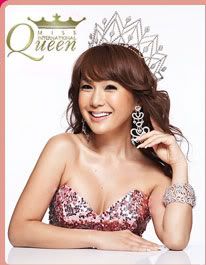 The 6th annual Miss International Queen 2010 beauty contest will be held in the beautiful city of Pattaya, Thailand on November 14-19. Miss International Queen 2009, Haruna Ai of Japan (photo above) will crown her successor at the end of the event.
Miss International Queen™ Pageant offers great opportunities for transgender/transsexual from all over the world to present their individual beauty and intelligence in a friendly atmosphere.
Miss International Queen™ Pageant is produced and organized by Tiffany's Show Pattaya Co., Ltd., the world's largest transvestite/transgender cabaret show and supported by Tourism Authority of Thailand.
Check out below are the 20 Official Miss International Queen 2010 Contestants:

Miss Sweden
Alexandra



Miss Japan
Ami Takeuchi



Miss Japan
Shima Shyna



Miss Belgium
Barbie Arcache Gauthier



Miss Philippines
Bembem Radaza



Miss Sri Lanka
Chamila



Miss Singapore
Cheryl Isabelle



Miss Philippines
Claire Harlow



Miss Philippines
Chelsea Marie



Miss France
Estelle Roeder



Miss Canada
Jenna Talackova



Miss Nepal
Meghana Lama



Miss Brazil
Michelly X



Miss Korea
Mini



Miss Philippines
Miranda Diana Kerr



Miss Thailand
Nalada Thamthanakorn



Miss Philippines
Nixie Salonga



Miss USA
Stasha Sanchez



Miss USA
Sunny Dee-Lite



Miss Ecuador
Susi Villa


Related Pageant
*
Teechada Marnyaporn, Miss Tiffany 2004 and Miss International Queen 2004
* ALBUM of
Teechada Marnyaporn - Miss International Queen 2004