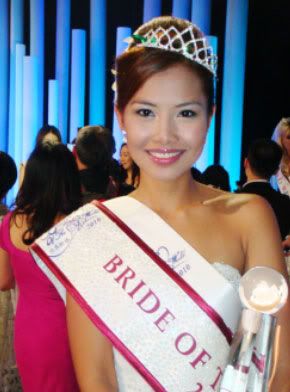 The world is her groom! That's right, the candidate from the
Philippines
,
Luisa Beltran
, was the winner of the first
Bride of the World
contest, held last Thursday December 9th at MediaCorp TV Theatre Singapore.
Runner-ups came from Bolivia, Ukraine, Russia, and Peru. The semi-finalists were Sri Lanka, Nigeria, Denmark, Korea, Germany, Moldova, Estonia, Lithuania, Malta and Romania.
Bruno Kettels, Mister International 2009, tried to help as an interpreter for the Spanish speaking candidates, however, he could nor understand the questions in English, or properly translate their answers!
Miss Philippines, the only finalist who spoke English, became the eventual winner.
It's important to point out that the Filipino beauty did not win only because of the her interview. Her beauty and elegance impressed everyone throughout the competition.
The 38 brides competed in national costumes, sportswear and wedding gowns.

Bride of the World contest was first in 1993, Organised under the auspices of International BOW Committee and Bride-of-the-World Organisation, Bride-of-the-World 2010 Grand Finale is in support of NS Pioneers Scholarship Funds for children of ex-NSmen, initiated by NUS NS Pioneers Association (NS Alumni).

courtesy of globalbeauties