A student of Interior Design at one of the best universities of the Turkish capital, Gizem Memic was crowned Miss Turkey 2010 during the pageant on April 1, 2010.
Gizem Memiç, a beautiful 19 year-old from Ankara, was named Miss Turkey World will represent Turkey in the Miss World pageant later this year.
While the runner-up, Serenay Sarikaya, won the title Miss Turkey Universe.
The 2nd runner-up, Döndü Şahin, will compete in Miss Earth 2010,
and Dilay Korkmaz, the 3rd runner-up, will go to Miss International 2010.
The Miss Turkey beauty contest Organized by the Royal TV, Kral TV, and broadcast live from CNBC-e.
TOP 4, Miss Turkey 2010
Miss Turkey 2010 Official Results
* Miss Turkey World 2010, Gizem Memiç
* Miss Turkey Universe 2010, Serenay Sarıkaya
* Miss Turkey Earth 2010, Döndü Şahin
* Miss Turkey International 2010, Dilay Korkmaz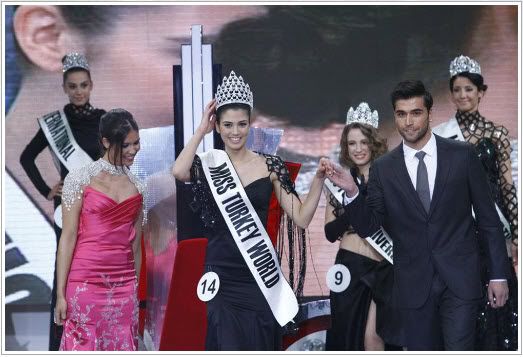 RELATED BEAUTY PAGEANT CONTEST