Beauty Pageant
>
Bolivia
>
* Miss Bolivia 2011 -
Winners
/
Contestants
* Miss Universe Bolivia 2011 - Yessica Mouton Gianella
* Miss Mundo Bolivia 2011 - Yohana Vaca Guzmán
* Miss Internacional Bolivia 2011 - Daniela Núñez del Prado Serrano
* Miss Tierra Bolivia 2011 - Valeria Avendano
* Miss Bolivia 2010 -
Winners
/
Contestants
* Miss Bolivia Universe 2010 - Olivia Pinheiro
* Miss Bolivia World 2010 - María Teresa Roca
* Miss Bolivia Earth 2010 - Yovana O'Brien
* Miss Bolivia 2009 (
Winner
/
Contestants
)
* Miss Bolivia 2009 Video (
Meet Supporters
/
Candidates Shot
/
Ready For Coronation
)
* Miss Bolivia 2008 (
Winner
/
Contestants
)
Miss Bolivia 2011 pageant will take place on June 30. The pageant will select the country's representative to the Miss Universe , Miss World and Miss Earth pageant.

Winners of Miss Bolivia 2010, Olivia Pinheiro, Maria Teresa Roca and Yovana O'Brien (photo above) will crown their respective successors at the end of the competition.

The Beauty Queen of Miss Universo Bolivia ( or Miss Bolivia Universe 2011) will represent Bolivia in Miss Universe 2012 next year. ( Olivia Pinheiro will compete in this year, Miss Universe 2011 )

While the winner of Miss Mundo Bolivia ( or Miss Bolivia World ) will competing in Miss World 2011 beauty contest on November 6 in London, UK.

And Miss Tierra Bolivia ( or Miss Bolivia Earth ) will enter Miss Earth 2011 pageant to be held in Pattaya, Thailand on December 3.

Here the official candidates of Miss Bolivia 2011.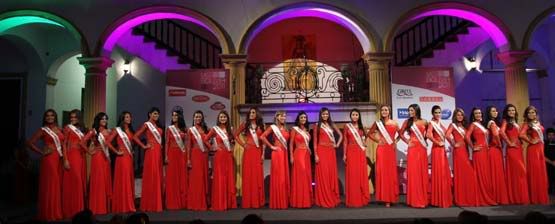 | | | |
| --- | --- | --- |
| Miyer Duran | Daniela Nunez Del Prado | Naida Martinez |
| Daniela Rodriguez | Odalis Ticonipa | Sicely Mariscal |
| Yessica Mouton | Tania Vargas | Daniela Mendez |
| Karina Calisaya | Dalma Lopez | Karen Salazar |
| Stephani Villa | Dayana Cuellar | Maria Cristina Iriarte |
| Romina Roman | Yohana Vaca | Valeria Avendano |
| Andrea Pinell | Suely Rico | Aleza Nunez |