Beauty Pageant
>
Serbia
>
* Miss Srbije / Miss Serbia 2011 -
Milica Tepavac
/
Contestants
* Miss Srbije / Miss Serbia 2010 -
Milica Jelić
/
Contestants
* Miss Srbije / Miss Serbia 2009 -
Jelena Marković
* Miss Srbije / Miss Serbia 2008 -
Nevena Lipovac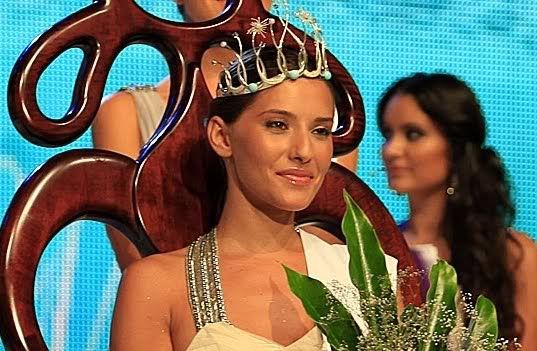 Milica Jelić, Miss Srbije 2010
Miss Srbije 2011 (Мисс Србија 2011) also known as Miss Serbia 2011 pageant will be held on July 7. The reigning
Miss Serbia 2010, Milica Jelić
(photo above) will crown her successor at the end of the pageant.
New
Beauty Queen
winner will representing
Serbia
in
Miss World 2011
beauty contest on November 6 in
London, UK
. The 1st runner up will compete in the
Miss Universe
2012 competition next year.
Other finalists will going to
Miss Earth 2011
beauty contest to be held in Pattaya,
Thailand
on December 3 and
Miss International 2011
pageant to be held on October 23 in Chengdu, China.
The following women will compete to become Miss Srbije 2011 / Мисс Србија 2011. Click on any image to launch a gallery of larger shots.

Marija Jovanovic
Марија Јовановиц


Marijana Miljkovic
маријана Миљковић


Katarina Pajic
катарина Пајић


Natasa Tutorov
Наташа Туторов


Marina Lazic
марина Лазић


Milosava Garic
Милосава Гарић


Jelena Marinkovic
Јелена Маринковић


Milica Tepavac
милица Тепавац
Winner


Teodora Bjelica
теодора Бјелица


Katarina Krtinic
катарина Кртинић


Nikolina Bojic
николина Бојић


Milica Tomasevic
милица Томашевић


Vesna Krsmanovic
весна Крсмановића


Kristina Kirhrot
кристина Кирхрот


Natasa Jelovac
Наташа Јеловац


Branislava Mandic
Бранислава Мандића
2nd runner-up


Marina Maksimovic
марина Максимовић


Nevena Pejatovic
невена Пејатовић


Nevena Lazovic
невена Лазовић


Bojana Lecic
бојана Лечић
1st runner-up


Natasa Stojkovic
Наташа Стојковић


Ana Tripkovic
ана Трипковић


Ivona Bijelic
Ивона Бијелић


Sanja Urosevic
сања Урошевић