Beauty Pageant > Miss Earth >
* Miss Earth 2011 - Contestants
* Miss Earth 2011 - Kicks off in the Philippines
* Miss Earth 2011 - Official Press Presentation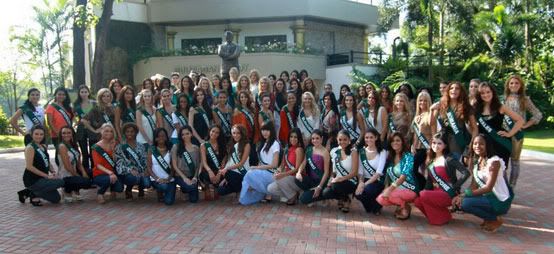 After Thailand stepped back from hosting Miss Earth 2011 due to the country's heavy flooding, the pageant returned to its birth place, the Philippines, and has kicked off this past weekend. 87 candidates are participating in this year's competition.
Yesterday (Nov 21, 2011) they attended an environmental seminar at the Tamarraw Hall, Bulwagan Ninoy, Ninoy Aquino Parks and Wildlife Center in Quezon City. In line with the theme of the International Year of the Forests, the candidates learned more about the forestry efforts all over Asia with focus on the Philippines.
The official press presentation took place on Tuesday. Based on the first photos and activities, some of the pageant's early standouts are Misses Taiwan (wearing the sash "Chinese Taipei"), Sweden, Mexico, Belgium, Crimea, Venezuela and Ukraine.
Although 93 contestants were expected, the delegates from Costa Rica, Moldova and Uruguay were not able to make it.
Miss Earth celebrates its 10th anniversary and 11th edition this year. The pageant is being covered by local blogs and fan pages and the official Miss Earth Facebook page.
courtesy of globalbeauties