Beauty Pageant > National Pageant > United States

Miss America > Past Titleholders Miss America > Miss America 2014 Final Results
---

Nina Davuluri, Miss New York 2013, was crowned Miss America 2014 (photo of miss america fb)
Miss America 2014, the 87th Miss America pageant, was held at Boardwalk Hall in Atlantic City, New Jersey for the first time since 2005 on September 15, 2013, therefore also returning to its September broadcast after nine years.[2][3]
The program was hosted by Chris Harrison and Lara Spencer and was broadcast live on ABC. The panel of celebrity judges for the top 15 finalists were: Deidre Downs Gunn, Carla Hall, Barbara Corcoran, Amar'e Stoudemire, Lance Bass, Joshua Bell, and Mario Cantone.
Nina Davuluri, Miss New York 2013, was crowned Miss America 2014.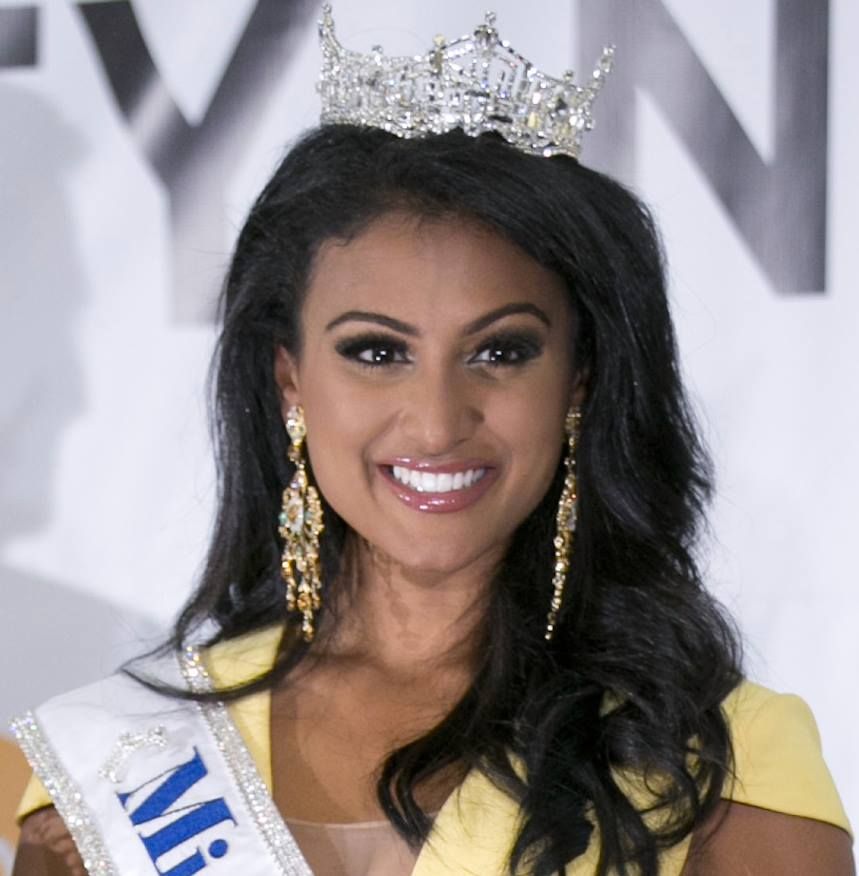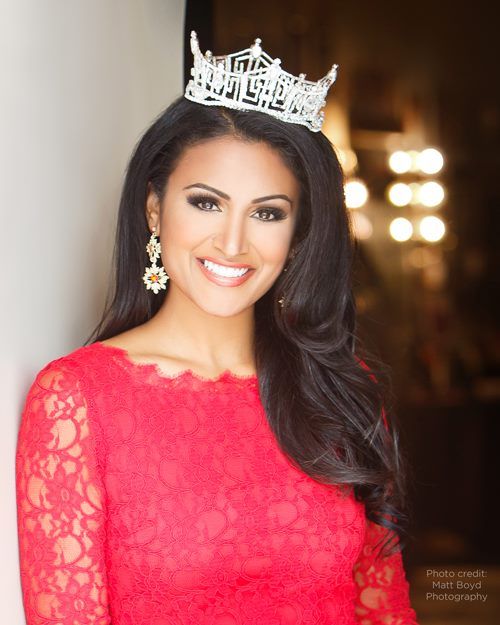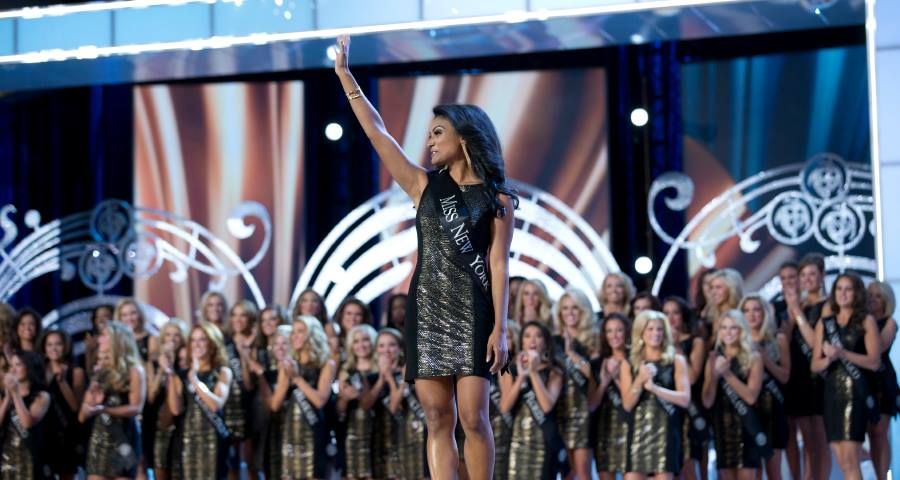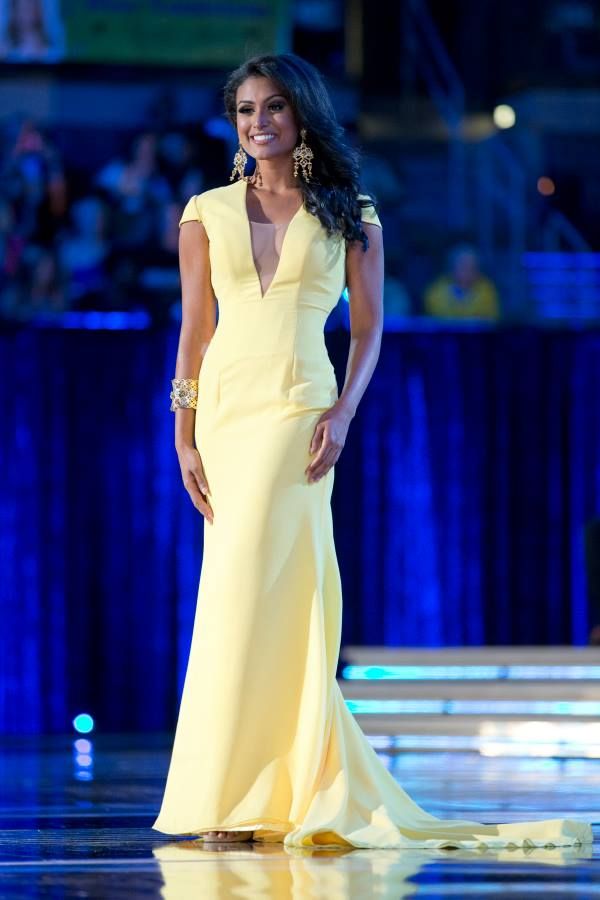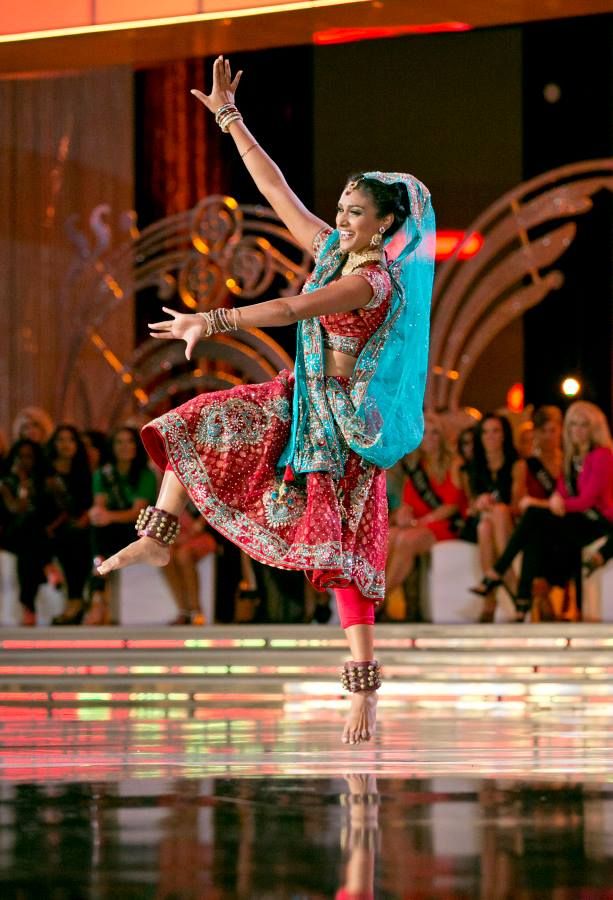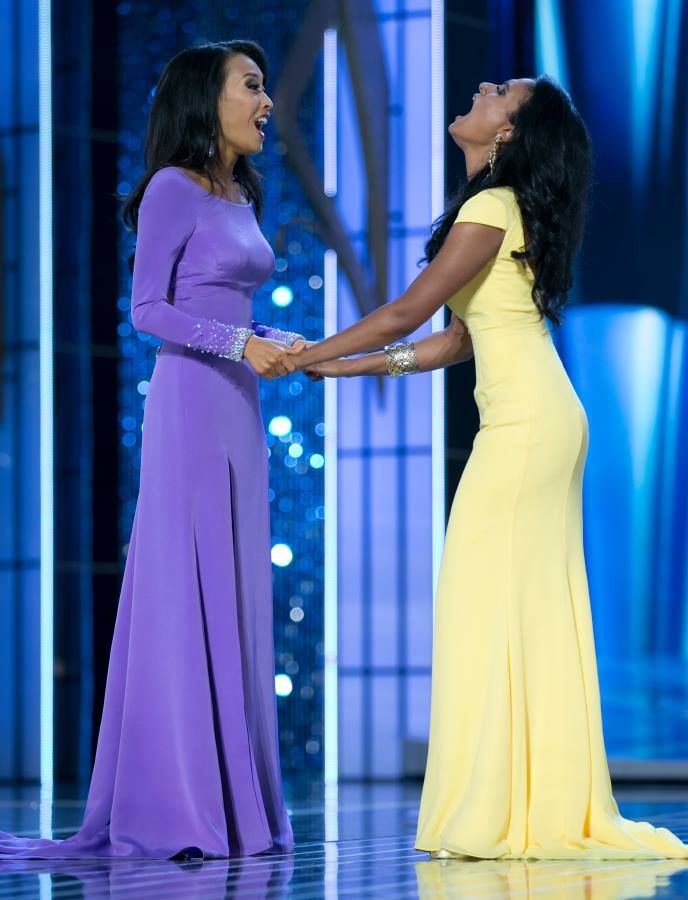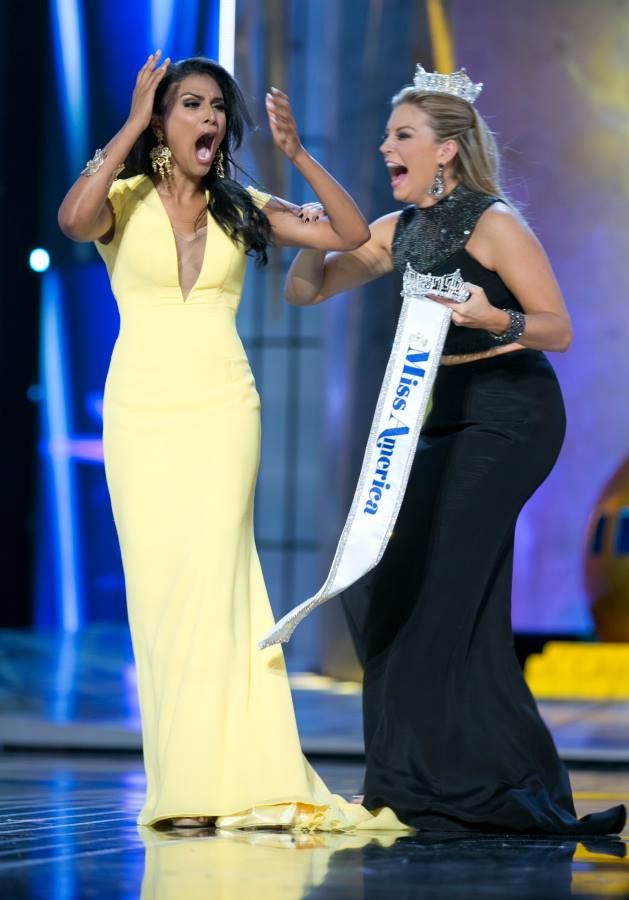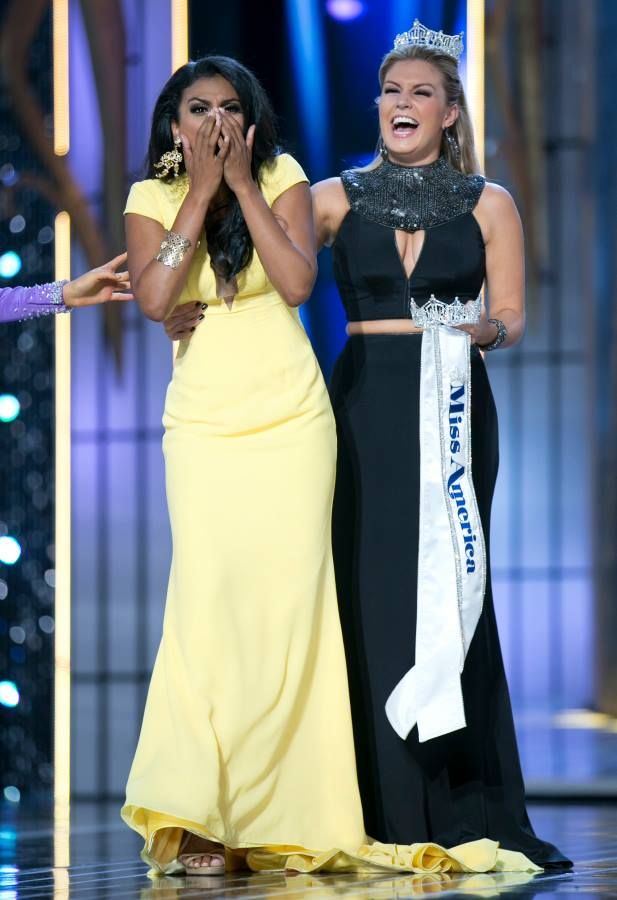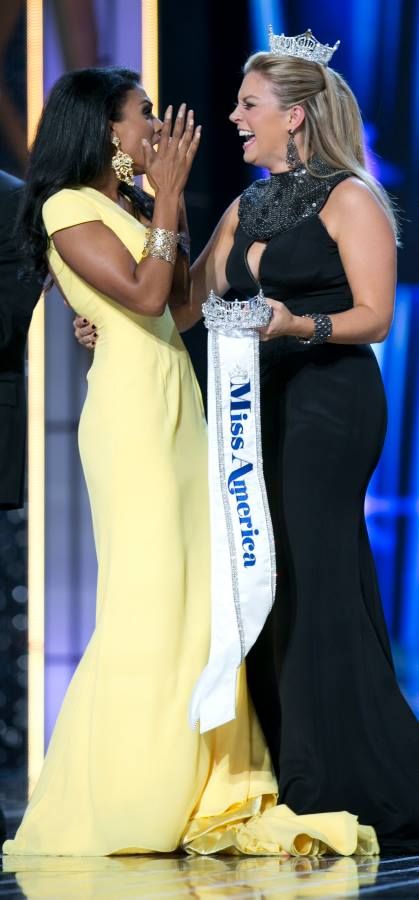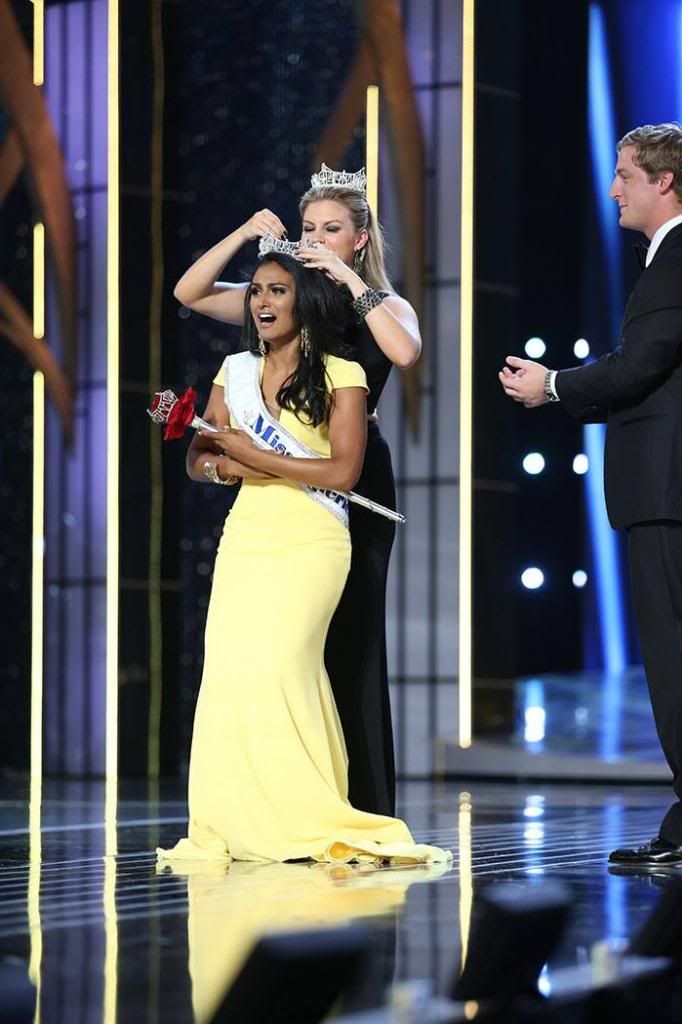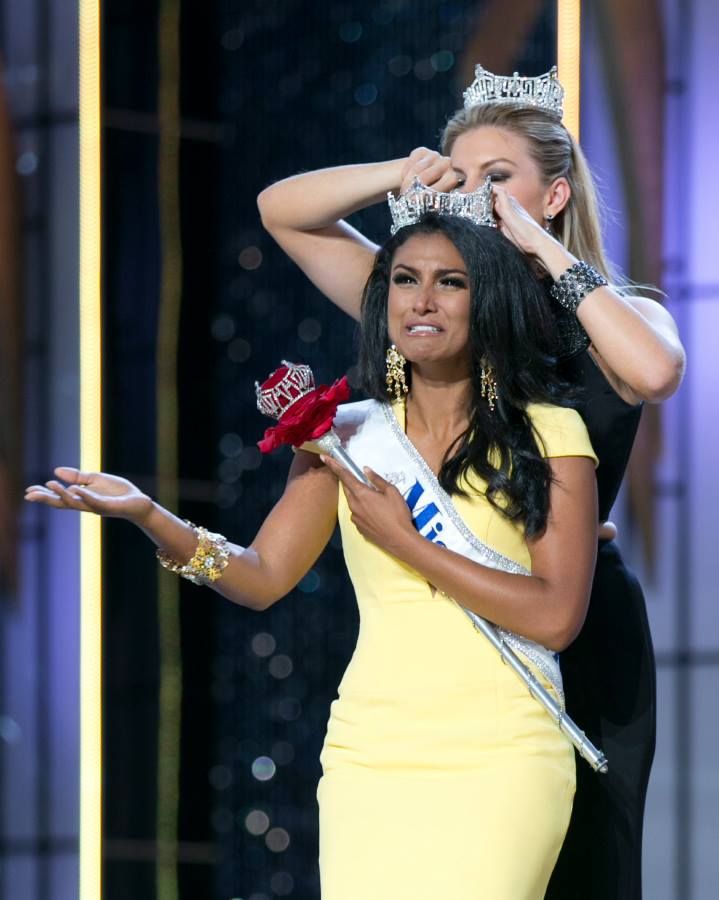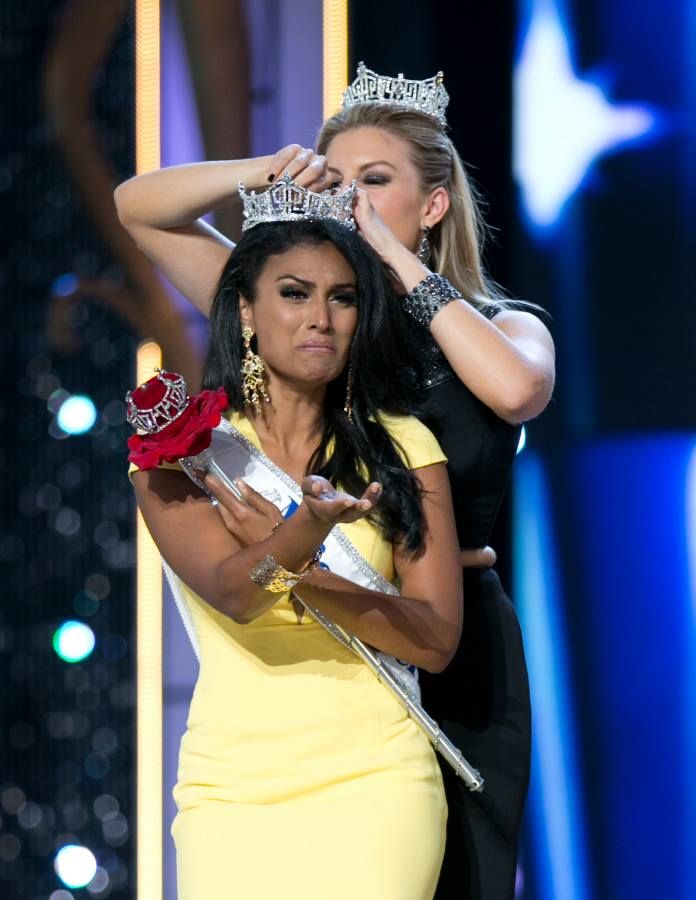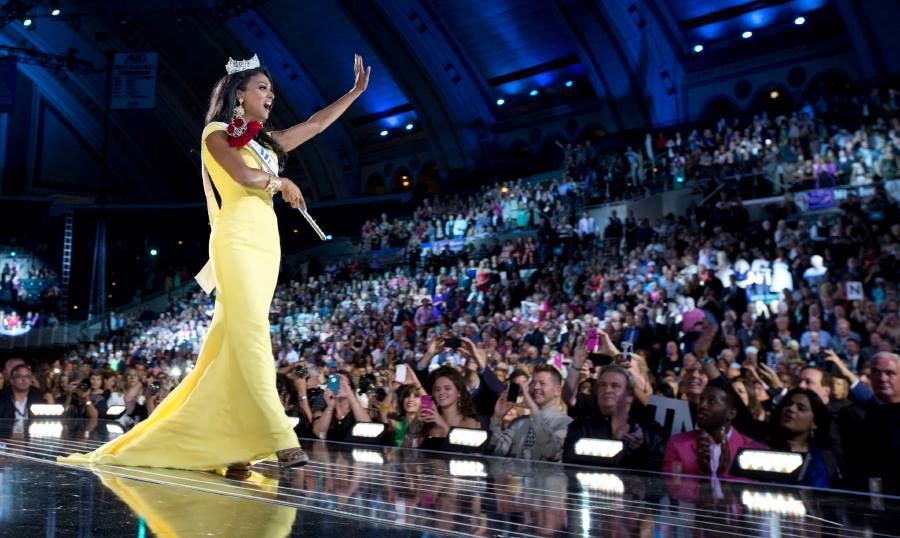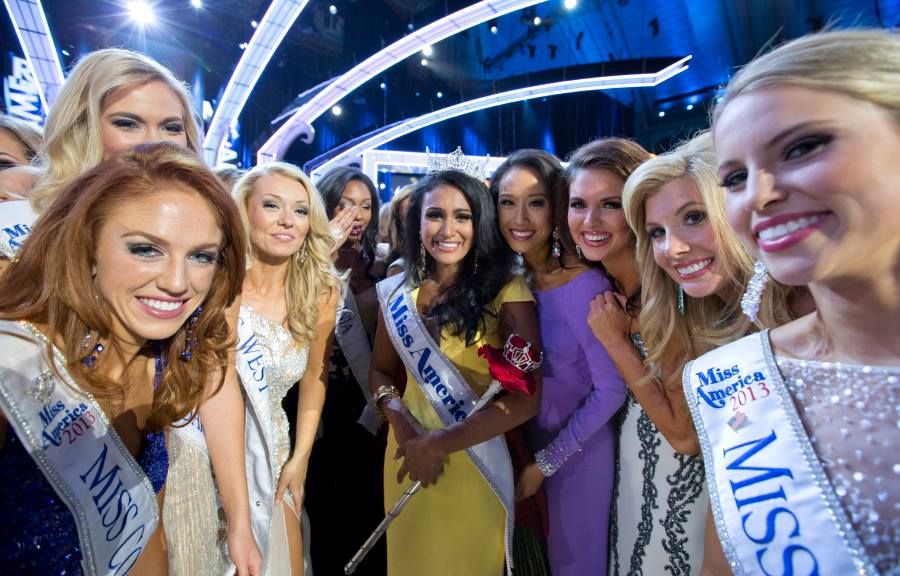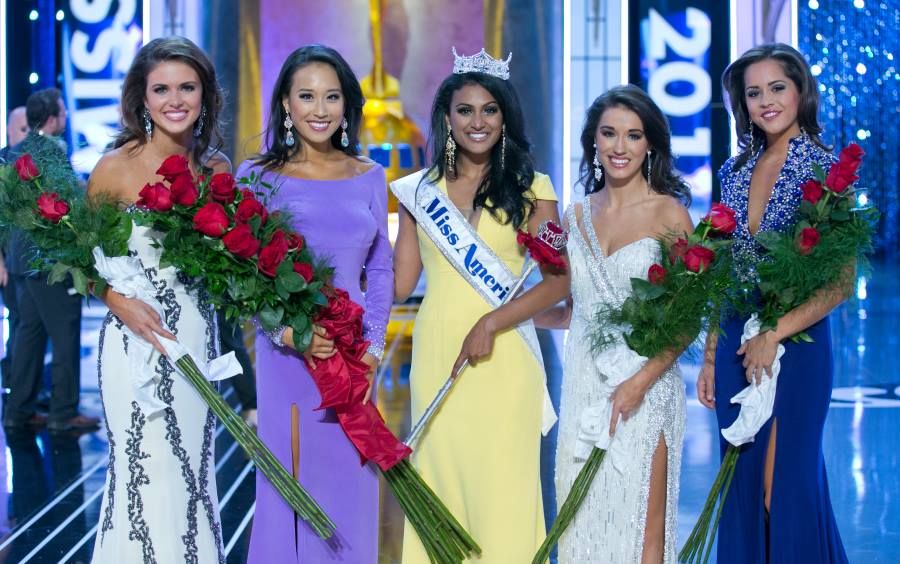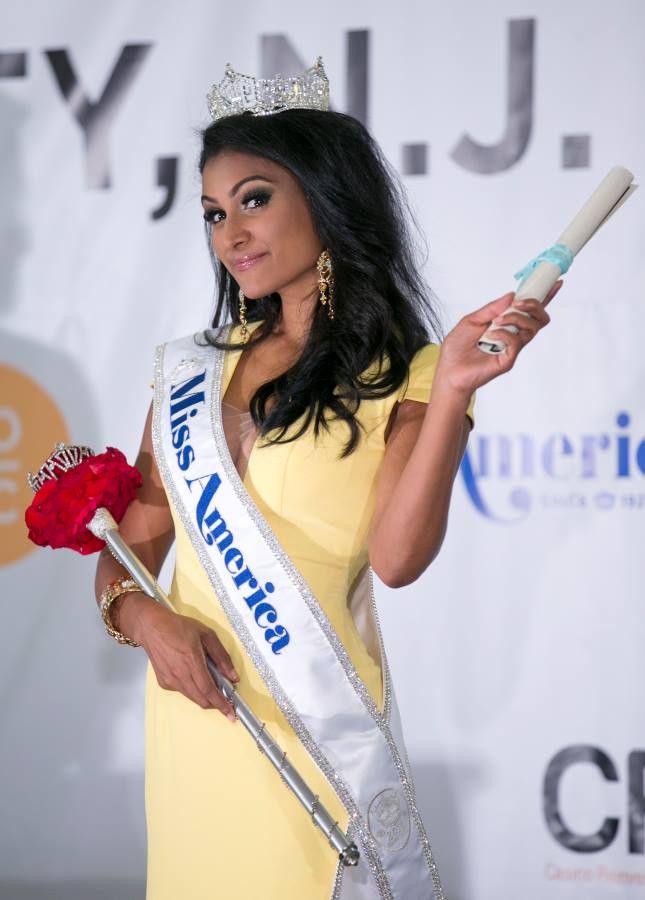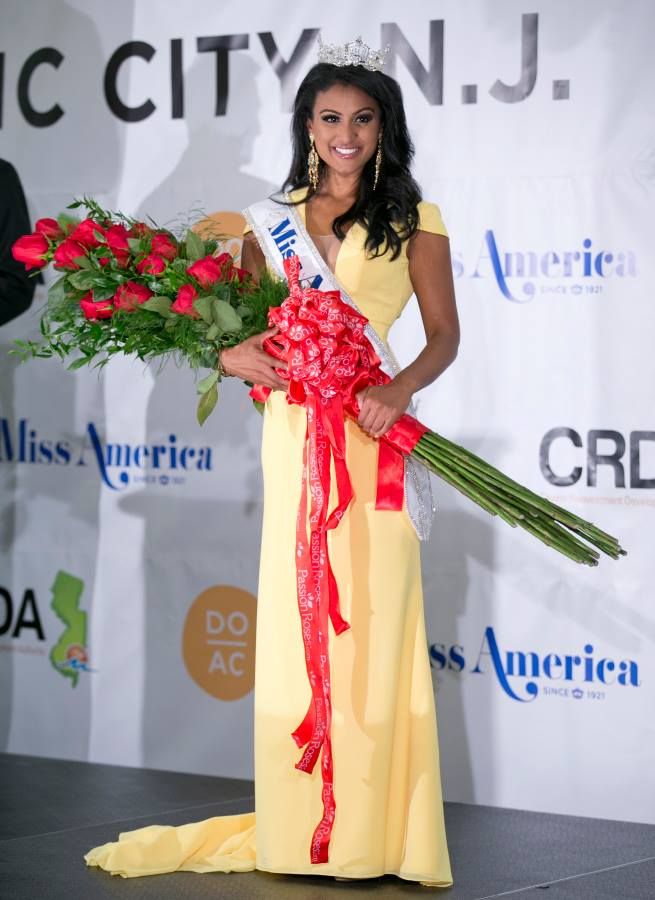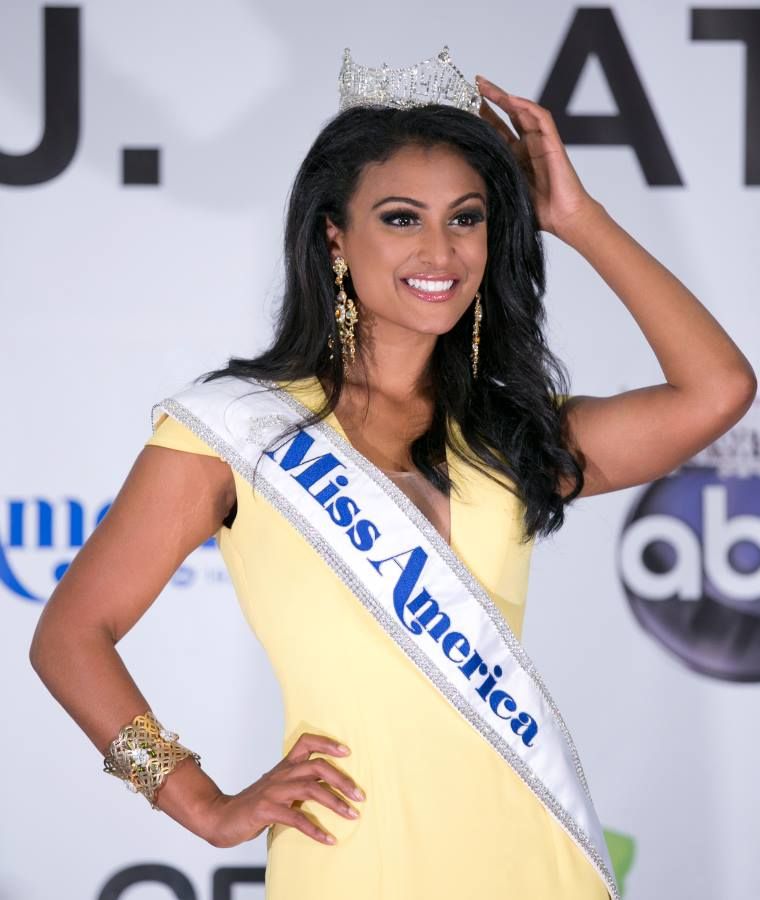 Nina Davuluri, Miss New York 2013, was crowned Miss America 2014 (photo of miss america fb)

Miss America 2014 Final Results
Placements
Contestants
Miss America 2014
New York – Nina Davuluri
1st runner-up
California – Crystal Lee
2nd runner-up
Oklahoma – Kelsey Griswold
3rd runner-up
Florida – Myrrhanda Jones
4th runner-up
Minnesota – Rebecca Yeh
Top 10
Connecticut – Kaitlyn Tarpey
Georgia – Carly Mathis
Kansas – Theresa Vail
Maryland – Christina Denny
Texas – Ivana Hall
Top 12
Missouri Missouri – Shelby Ringdahl
Wisconsin – Paula Mae Kuiper
Top 15
Arkansas Arkansas – Amy Crain
Kentucky – Jenna Day
Mississippi – Chelsea Rick
Miss America 2014 Preliminary Awards
Awards
Contestants
Preliminary Lifestyle & Fitness
Georgia – Carly Mathis
Mississippi – Chelsea Rick
Oklahoma – Kelsey Griswold
Preliminary Talent
Florida – Myrrhanda Jones
Minnesota – Rebecca Yeh
New Hampshire – Samantha Russo
Miss America 2014 Quality of Life Awards
| Awards | Contestants |
| --- | --- |
| Winner | Michigan – Haley Williams |
| 1st Runner-Up | South Carolina – Brooke Mosteller |
| 2nd Runner-Up | Rhode Island – Jessica Marfeo |
Miss America 2014 Other awards
Awards
Contestants
America's Choice
Kansas Kansas - Theresa Vail
Duke of Edinburgh Awards
Alabama – Chandler Champion
California – Crystal Lee
Colorado – Meg Kardos
Louisiana – Jaden Leach
Michigan – Haley Williams
Mississippi – Chelsea Rick
Nebraska – Jacee Pilkington
New Hampshire – Samantha Russo
North Carolina – Johna Edmonds
Ohio – Heather Wells
Oklahoma – Kelsey Griswold
Pennsylvania – Annie Rosellini
South Carolina – Brooke Mosteller
Tennessee – Shelby Thompson
West Virginia – Miranda Harrison
Fourpoints Award
Idaho – Sarah Downs
Miracle Maker Award
South Carolina – Brooke Mosteller
Miss Congeniality
South Carolina – Brooke Mosteller
Utah – Ciera Pekarcik
Non-Finalist Interview
New Mexico – Alexis Duprey
Non-Finalist Talent
Alabama – Chandler Champion
Delaware – Rebecca Jackson
Louisiana – Jaden Leach
Maine – Kristin Korda
New Hampshire – Samantha Russo
STEM Scholarship Awards
California – Crystal Lee
Mississippi – Chelsea Rick
Miss America 2014 Contestants

Miss Alabama
Chandler Champion

Miss Alaska
Michelle Taylor

Miss Arizona
Jennifer Smestad

Miss Arkansas
Amy Crain

Miss California
Crystal Lee

Miss Colorado
Meg Kardos

Miss Connecticut
Kaitlyn Tarpey

Miss Delaware
Rebecca Jackson

Miss District of Columbia
Bindhu Pamarthi

Miss Florida
Myrrhanda Jones

Miss Georgia
Carly Mathis

Miss Hawaii
Crystal Lee

Miss Idaho
Sarah Downs

Miss Illinois
Brittany Smith

Miss Indiana
Terrin Thomas

Miss Iowa
Nicole Kelly

Miss Kansas
Theresa Vail

Miss Kentucky
Jenna Day

Miss Louisiana
Jaden Leach

Miss Maine
Kristin Korda

Miss Maryland
Christina Denny

Miss Massachusetts
Amanda Narciso

Miss Michigan
Haley Williams

Miss Minnesota
Rebecca Yeh

Miss Mississippi
Chelsea Rick

Miss Missouri
Shelby Ringdahl

Miss Montana
Sheridan Pope

Miss Nebraska
Jacee Pilkington

Miss Nevada
Diana Sweeney

Miss New Hampshire
Samantha Russo

Miss New Jersey
Cara McCollum

Miss New Mexico
Alexis Duprey

Miss New York
Nina Davuluri

Miss North Carolina
Johna Edmonds

Miss North Dakota
Laura Harmon

Miss Ohio
Heather Wells

Miss Oklahoma
Kelsey Griswold

Miss Oregon
Allison Cook

Miss Pennsylvania
Annie Rosellini

Miss Puerto Rico
Shenti Lauren

Miss Rhode Island
Jessica Marfeo

Miss South Carolina
Brooke Mosteller

Miss South Dakota
Tessa Dee

Miss Tennessee
Shelby Thompson

Miss Texas
Ivana Hall

Miss Utah
Ciera Pekarcik

Miss Vermont
Jeanelle Achee

Miss Virgin Islands
Ashley Massiah

Miss Virginia
Desiree Williams

Miss Washington
Reina Almon

Miss West Viriginia
Miranda Harrison

Miss Wisconsin
Paula Kuiper

Miss Wyoming
Rebecca Podio
---
* Road to Miss Arizona 2013
> Jennifer Smestad Crowned Miss City of Maricopa 2013
> Shannon Willis Crowned Miss Navajo County 2013
> Stephanie Pereda Crowned Miss San Luis 2013
> Tamara Vukomanovich Crowned Miss Sierra Vista 2012
> Haleigh Anderson Crowned Miss White Mountains 2013
> Ashley Vicks Crowned Miss Yuma County 2013

* Road to Miss California 2013
** Missy Mendoza Crowned Miss Garden Grove 2013
** Nicolette Schiber Crowned Miss Merced County 2013
** Kara Smoot Crowned Miss Ventura County 2013

* Road to Miss Georgia 2013
** Hayley Henderson Crowned Miss Troup County 2013

* Road to Miss Indiana 2013, Courtney Jurick Crowned Miss South Central 2013
* Road to Miss Missouri 2013, Morgan Lockowitz Crowned Miss Audrain 2013

* Road to Miss North Carolina 2013
** Miss Fayetteville, Miss Fayetteville Outstanding Teen to be crowned Today (Jan 19)

* Road to Miss Oregon 2013 – Who will be crowned June 29, 2013
* Road to Miss Washington 2013, Alicia Gonzales Crowned Miss Thurston County 2013
* Road to Miss Washington 2013, Megan Leibold Crowned Miss West Sound 2013
---
You might LIKE This

* Past Titleholders Miss America
*
* Miss America 2014 - Road to Miss America 2014 (Expected Contestants)
* Miss America 2013 - Beauty Queen New York Mallory Hytes Hagan Crowned Miss America 2013
* Miss America 2013 - Beauty Queen New York Mallory Hytes Hagan Crowning Moment (VDO)
* Miss America 2013 - Beauty Queen New York Mallory Hytes Hagan ALBUM
* Miss America 2013 - Vote for Miss New York 2012 Mallory Hagan (VDO)
* Miss America 2013 - Road to Miss America 2013 (Contestants Profile)
* CLICK HERE >> Coverage of Miss America 2013
* Miss America 2012 - Laura Kaeppeler, Miss Wisconsin Crowned Miss America 2012
* Miss America 2012 - Road to Miss America 2012 - Contestants
* Miss America 2011 - Teresa Scanlan / Contestants / Coverage
* Miss America 2010 - Caressa Cameron / Contestants
* Miss America 2009 - Katie Stam / Contestants


---