>
Beauty Pageant
>
Miss Universe
&
Miss World
&
Miss International
&
Miss Earth
*
Road to Miss Universe 2014
*
Road to Miss World 2014
*
Road to Miss International 2014
*
Road to Miss Earth 2014
---
Beauty Pageant
> National pageant >
Indonesia Beauty Pageant
* Miss Indonesia / Miss Indonesia World 2014 Winner -
Maria Rahajeng (Final Results)
* Miss Indonesia / Miss Indonesia World 2013 Winner -
Vania Larissa
* Miss Indonesia / Miss Indonesia World 2012 Winner -
Ines Putri Tjiptadi Chandra (Miss Bali)
* Miss Indonesia / Miss Indonesia World 2011 Winner -
Astrid Ellena Indriana Yunadi
* Miss Indonesia / Miss Indonesia World 2011 -
Contestants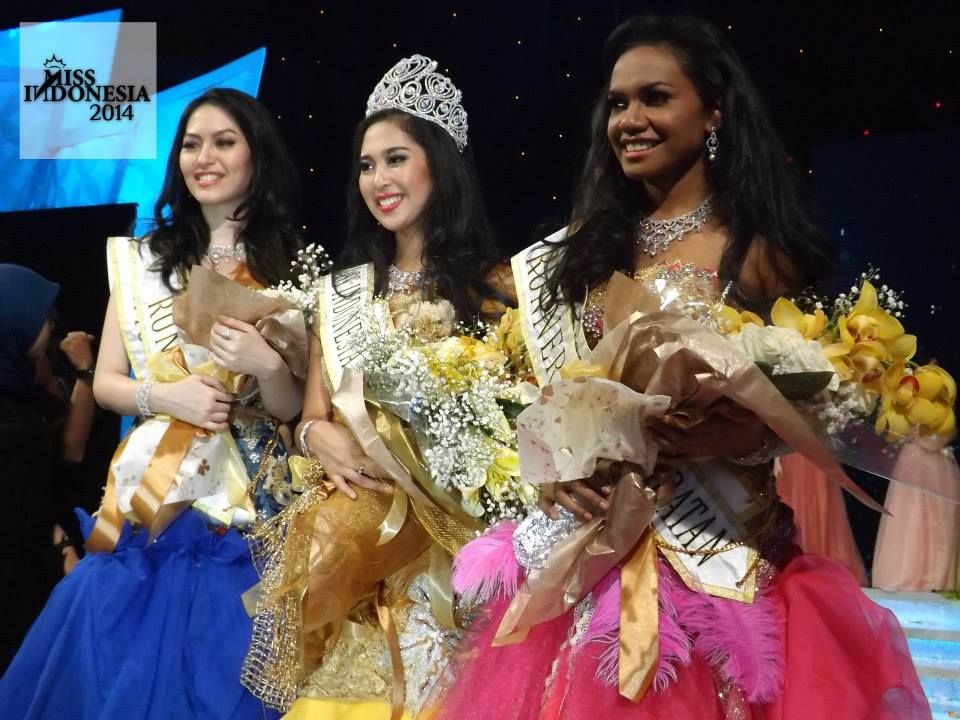 (L) Runner Up 2 (Miss Jawa Timur), (C) Miss Indonesia 2014 (Miss Sulawesi Barat)
& (R) Runner Up 1 (Miss Papua Barat)
West Sulawesi beauty queen Maria Asteria Sastrayu Rahajeng (Maria Rahajeng) was crowned Miss Indonesia 2014 at the conclusion of the pageant held on 17th February, 2014 at the Hall D2 in the Jakarta International Expo, Jakarta, Indonesia. She will represent Indonesia in the Miss World 2014 pageant, scheduled for later this year in London.
If new Miss World Indonesia 2014 wins the Miss World 2014 title, she will become the First Titleholder form Indonesia to crown the title of Miss World.
Maria Rahajeng is 22 years old and stands 1.65 m. She is a graduate of the University of Pelita Harapan. Maria was one of the Indonesian delegation to the conference of APEC Voices of the Future 2013 in Bali.
Miss Indonesia 2014 Final Results
Placement
Contestant
Miss Indonesia 2014
(Miss Indonesia World)
West Sulawesi - Maria Asteria Sastrayu Rahajeng
1st runner-up
West Papua - Ellen Rachel Aragay
2nd runner-up
East Java - Hanna Sugialam
Top 7
Aceh - Shinta Alvionita
Central Java - Tatyana Almira Permadi
Lampung - Fadhila Hananing Estu
Yogyakarta Special Region - Bunga Syamsu Wirandani
Top 15
Bangka-Belitung Islands - Olivia Pramaisella
Central Sulawesi - Indah Kusuma
Central Kalimantan - Bunga Ghassani
Gorontalo - Windy Dwi Hapsari
Jakarta Special Capital Region - Olivia Belle Utomo
Maluku - Dewi Puspitasari
North Sumatra - Ruth Christine Laura Tobing
West Java - Siti Anida Lestari Qoryatin
Miss Indonesia 2014 Fast Track
| Fast Track | Contestant |
| --- | --- |
| Miss Multimedia | Bangka-Belitung Islands - Olivia Pramaisella |
| Miss Catwalk | Gorontalo - Windy Dwi Hapsari |
| Miss Nature & Beauty Fashion | Aceh - Shinta Alvionita |
| Miss Sport | Maluku - Dewi Puspitasari |
| Miss Talent | North Sumatra - Ruth Christine Laura Tobing |
| Miss Beauty With A Purpose | Central Sulawesi - Indah Kusuma |
Miss Indonesia 2014 Special Award
| Award | Contestant |
| --- | --- |
| Miss Social Media | Bangka-Belitung Islands - Olivia Pramaisella |
| Miss Beauty Skin | Jakarta Special Capital Region - Olivia Belle Utomo |
| Miss Online | Riau - Jesslyn Anggasta Hardi |
| Miss Lifestyle | East Java - Hanna Sugialam |
| Miss Chatting | West Java - Siti Anida Lestari Qoryatin |
| Miss Congeniality | West Papua - Ellen Rachel Aragay |
| Miss Favorite | West Kalimantan - Diana Jo Rachmatien |
Miss Indonesia 2014 Contestants