> Beauty Pageant > Miss Universe & Miss World & Miss International & Miss Earth
* Road to Miss Universe 2014
* Road to Miss World 2014
* Road to Miss International 2014
* Road to Miss Earth 2014
---
National Pageant >
United States
>
Hall of Fame Miss USA
*
Road to Miss USA 2014
*
Miss USA 2014 Contestants - Head Shot
KENDALL BAUTISTA
ALASKA
HOMETOWN: Eagle River
HEIGHT: 5' 7"
AGE: 21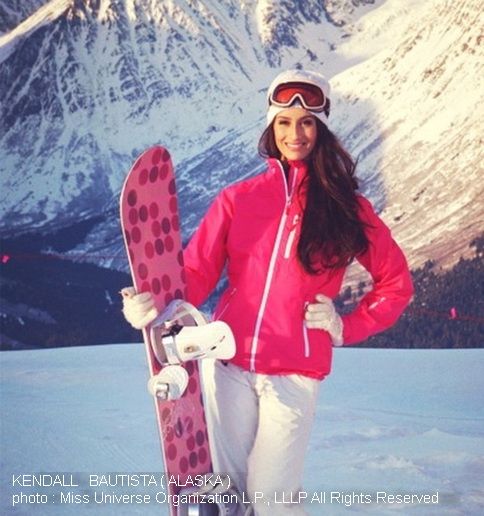 All photo : Miss Universe Organization L.P., LLLP All Rights Reserved
BIO
Kendall started the first Alaska chapter of the "Queen for a Day" Foundation. She is the Director, providing therapeutic experiences to children with chronic illnesses in the hospital by spending a day dressing them up like princesses and having a tea party filled with joy and laughter. She also serves as a mentor for the Big Brothers Big Sisters organization and visits with her "little sister" each week. She joined the program after her family fostered a five-year-old girl who inspired her to continue to be a big sister in the life of other young girls.
She enjoys working with many charitable causes. She continues to make a positive impact on her community while working to obtain her degree in Journalism and Marketing from the University of Alaska, Anchorage. She plans to have a career in public relations and broadcast journalism, and become a best-selling author.
FAVORITE THINGS
Movie : Sabrina starring Audrey Hepburn
Song : "The Story of My Life" by One Direction
Sport : Softball
Food : Pecan Pie
FUN FACTS
- Director for the "Queen For a Day" Foundation, Alaska chapter, which provides therapeutic experiences
for children with cancer.
- Loves to write and is in the process of publishing her first children's book.
- Big sister for the Big Brothers Big Sisters Organization.