> Beauty Pageant > Miss Universe & Miss World & Miss International & Miss Earth
* Road to Miss Universe 2014
* Road to Miss World 2014
* Road to Miss International 2014
* Road to Miss Earth 2014
---
National Pageant >
United States
>
Hall of Fame Miss USA
*
Road to Miss USA 2014
*
Miss USA 2014 Contestants - Head Shot
MEKAYLA DIEHL
INDIANA
HOMETOWN: Bristol
HEIGHT: 5' 8"
AGE: 25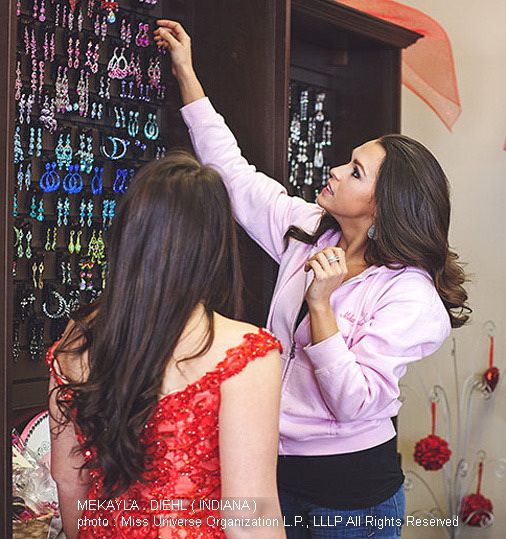 All photo : Miss Universe Organization L.P., LLLP All Rights Reserved
BIO
Mekayla is a 2011 graduate from Albion College, MI with a Bachelor's Degree of Liberal Arts in Mass Communication. Although she worked one year as a Radio DJ, she found her true passion at Ashley Rene's. She works as the Store Manager, Marketing Director, Store Buyer, and Pageant Consultant. Getting to work along side the top dress designers in the pageant industry, she's working toward her dream of designing her very own line of pageant gowns.
During her reign, Mekayla hopes to work with charitable organizations that assist children and families who are faced with adversity. As a victim of child abuse and adoption, Mekayla hopes to share her inspiring story with others so they may build up the courage to go after their dreams, too. In her free time, Mekayla enjoys relaxing with family and friends, and frequent trips to the movie theater. Mekayla wants to make skydiving an annual tradition; her first experience skydiving was over the Great Barrier Reef in Australia.
FAVORITE THINGS
Movie : Any classic Disney
Song : "The Scientist" by Coldplay
Sport : Volleyball
Food : Dessert
FUN FACTS
- Was a 10-year 4-H member and showed horses, sewed her own clothes,
and learned about agriculture; first job was detassling corn!
- Was a tomboy for most of her childhood.
- Had a dirt bike, snowmobile, four-wheeler and a horse before she had a car.