> Beauty Pageant > Miss Universe & Miss World & Miss International & Miss Earth
* Road to Miss Universe 2014
* Road to Miss World 2014
* Road to Miss International 2014
* Road to Miss Earth 2014
---
National Pageant >
United States
>
Hall of Fame Miss USA
*
Road to Miss USA 2014
*
Miss USA 2014 Contestants - Head Shot
DESTIN KINCER
KENTUCKY
HOMETOWN: Whitesburg
HEIGHT: 5' 11"
AGE: 21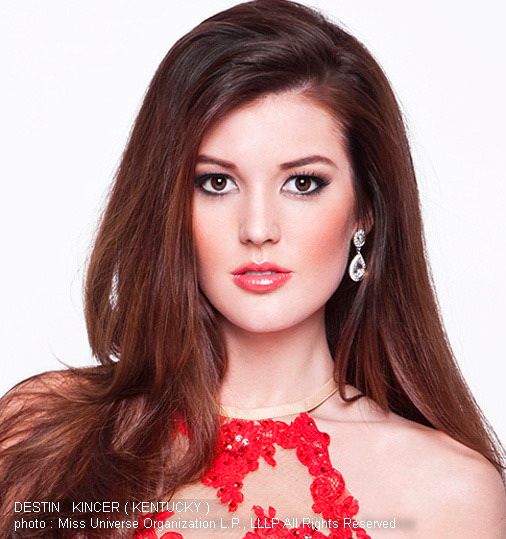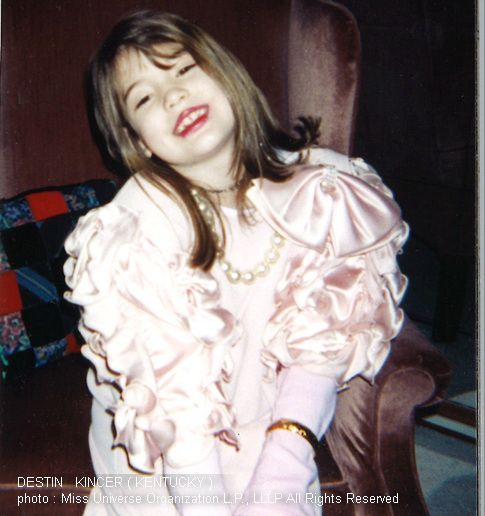 All photo : Miss Universe Organization L.P., LLLP All Rights Reserved
BIO
Destin Kincer was born and raised in the small city of Whitesburg, Kentucky, which is nestled in the foothills of Pine Mountain. From an early age it was easy to see that Destin was meant for a career in modeling or to compete in pageants. Her favorite pastime as a child was participating in hide and seek with her cousins, and playing dress up with clothes found in her grandparent's attic. Destin has always loved learning and did very well in school. This love of learning has followed her all the way to the University of Kentucky, where she is currently majoring in biology with plans to attend medical school upon graduation. Destin has always believed in the importance of helping others, and chose to pursue a career in medicine because of this love of service. She also hopes to model professionally, and has plans of travelling to New York City to pursue this dream very soon. Destin would love to represent our country as Miss USA 2014 and is thankful for the opportunity.
FAVORITE THINGS
Movie : Crazy Stupid Love
Song : "All of Me" by John Legend
Sport : Tennis
Food : Mexican food
FUN FACTS
- Travelled to four countries (Spain, Italy, France, and Switzerland) in less than a month.
- Modeled in New York City during the summer of 2013, was offered a contract,
but did not feel as though it was right for her to pursue at the time.
- Developed appendicitis and had to have her appendix removed in the first grade.