>
Beauty Pageant
>
Miss Universe
&
Miss World
&
Miss International
&
Miss Earth
*
Road to Miss Universe 2014
*
Road to Miss World 2014
*
Road to Miss International 2014
*
Road to Miss Earth 2014
---
National Pageant >
United States
>
Hall of Fame Miss USA
*
Road to Miss USA 2014
*
Miss USA 2014 Contestants - Head Shot
BRITTANY GUIDRY
LOUISIANA
HOMETOWN: Houma
HEIGHT: 5' 9"
AGE: 21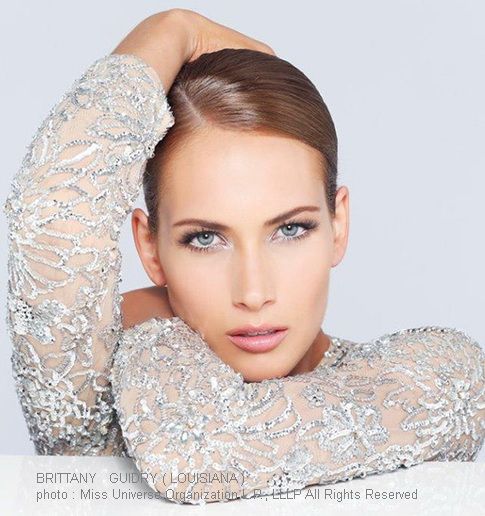 All photo : Miss Universe Organization L.P., LLLP All Rights Reserved
BIO
Brittany Guidry, a 21-year-old residing in Houma, Louisiana, made her dream come true as she captured the crown of Miss Louisiana USA 2014. After graduating high school, she moved to Lafayette, Louisiana to attend the University of Louisiana at Lafayette, where she is majoring in Public Relations. Aside from her commitment to school, she has been working hard to pursue her dream of becoming a respected print and runway model. Recently, she landed the opportunity to model the runway in fall New York Fashion Week for Sherri Hill. Furthermore, while modeling for the Sherri Hill catalog, she was able to meet and model with the cast of Duck Dynasty. Previously, she has also modeled for Precious Formals, Fakier's Jewelers, and local boutiques to name a few. During her journey this year to prepare for Miss USA 2014, Brittany plans to work closely with the United Services Organization (USO), Wounded Warrior Project, and several other organizations.
FAVORITE THINGS
Movie : Billy Madison
Song : "The Woods" by Portugal
Sport : Volleyball
Food : Raw Oysters
FUN FACTS
- Loves traveling!
- Huge history buff
- Has a crazy eye that she can make twitch on command.