>
Beauty Pageant
>
Miss Universe
&
Miss World
&
Miss International
&
Miss Earth
*
Road to Miss Universe 2014
*
Road to Miss World 2014
*
Road to Miss International 2014
*
Road to Miss Earth 2014
---
National Pageant >
United States
>
Hall of Fame Miss USA
*
Road to Miss USA 2014
*
Miss USA 2014 Contestants - Head Shot
TAYLOR BURTON
MARYLAND
HOMETOWN: La Plata
HEIGHT: 5' 10"
AGE: 25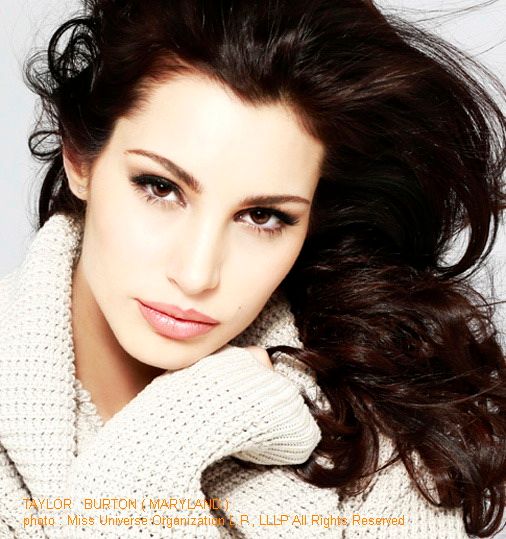 All photo : Miss Universe Organization L.P., LLLP All Rights Reserved
BIO
Taylor Burton competed at her first pageant in November of 2013, and she was humbled when she was crowned Miss Maryland USA 2014 at the culmination of the night. She is confident in front of a camera and an audience, which can be partially attributed to her experience as a model with Click Models of Philadelphia. Taylor has also studied Environmental Science, with a concentration in Natural Resources Management at the University of Maryland. She is an ardent supporter of habitat conservation and rehabilitation. Taylor currently works as a Realtor with Long & Foster Real Estate, and she strives to promote the American dream of homeownership. She is also passionate about protecting the well-being of our military and their families, and is a volunteer with military-based charities. Her favorite activities occur outdoors; she loves hiking, camping, and kayaking. She looks forward to sharing her goals with Maryland and hopes to make her state proud on the Miss USA stage.
FAVORITE THINGS
Movie : Seabiscuit
Song : "McFearless" by Kings of Leon
Sport : Indoor Volleyball
Food : Nachos that are loaded with jalapeños
FUN FACTS
- One aspiration is to summit one of America's great snowy peaks,
regardless of her cold allergies and fear of heights!
- Once won an impromptu nacho-eating duel against a grown man in Mexico.
- Is the laughing stock of her friends at sporting events because
she cries every time she hears The Star-Spangled Banner.