>
Beauty Pageant
>
Miss Universe
&
Miss World
&
Miss International
&
Miss Earth
*
Road to Miss Universe 2014
*
Road to Miss World 2014
*
Road to Miss International 2014
*
Road to Miss Earth 2014
---
National Pageant >
United States
>
Hall of Fame Miss USA
*
Road to Miss USA 2014
*
Miss USA 2014 Contestants - Head Shot
HALEY O'BRIEN
MINNESOTA
HOMETOWN: Excelsior
HEIGHT: 5' 8"
AGE: 21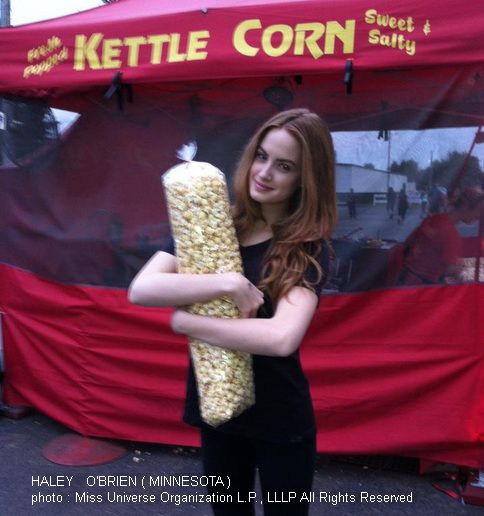 All photo : Miss Universe Organization L.P., LLLP All Rights Reserved
BIO
Haley O'Brien, Miss Minnesota USA 2014, is currently a senior at St. Cloud State University in St. Cloud, Minnesota, where she is pursuing a Bachelor of Science degree in Medical Biology and Psychology, with a minor in Chemistry. This twenty-one-year-old hopes to continue her medical studies at the University of Minnesota and eventually specialize in neurosurgery and/or facial reconstruction. She was born and raised in the small town of Excelsior, Minnesota. She has an older sister, Erin, age twenty-three, and a younger brother, Noah, age sixteen. In her free time, she enjoys snowboarding, camping, hiking, and painting. She also enjoys "caking," or the art of extreme cake baking. Haley is a self-professed nerd. Throughout middle school and high school, she was bullied for both her awkward appearance and passion for academics. She has taken this experience and used it to encourage young people to always be themselves no matter what others may say.
FAVORITE THINGS
Movie : Lord of the Rings
Song : "22" by Taylor Swift
Sport : Rock climbing
Food : Sesame chicken and cream cheese puffs
FUN FACTS
- Very proud of her natural red hair
- Obsessed with Lord of the Rings
- Huge nerd; joined duck tape club, mathletes, science club, chess team, captained mock trial,
and was a leader for youth in government.