>
Beauty Pageant
>
Miss Universe
&
Miss World
&
Miss International
&
Miss Earth
*
Road to Miss Universe 2014
*
Road to Miss World 2014
*
Road to Miss International 2014
*
Road to Miss Earth 2014
---
National Pageant >
United States
>
Hall of Fame Miss USA
*
Road to Miss USA 2014
*
Miss USA 2014 Contestants - Head Shot
ERICA STURDEFANT
MISSOURI
HOMETOWN: Springfield
HEIGHT: 5' 9"
AGE: 23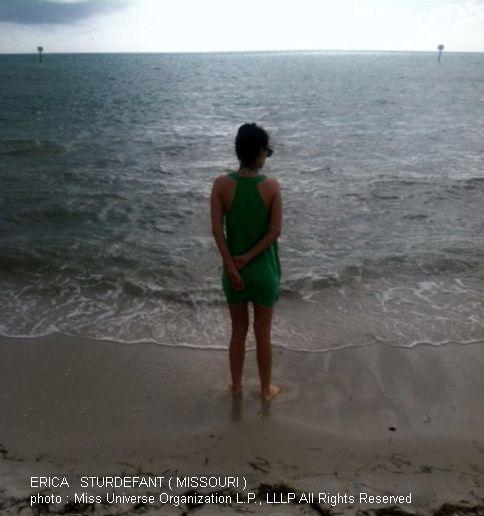 All photo : Miss Universe Organization L.P., LLLP All Rights Reserved
BIO
Erica was born in Springfield, Missouri. She recently graduated from Lindenwood University with an undergraduate degree in Psychology. She plans to go back to school and receive her master's degree in the near future. She hopes to one day run her own nonprofit organization that aims to help at-risk populations. Erica grew up playing competitive sports and staying physically active. She thinks she is a tomboy at heart, but also has a girly side. She has a lot of modeling experience and was also Miss Missouri Teen USA 2010. Erica's proud of working her way through college and has supported herself financially since 17 years old. She loves watching documentaries, thrift shopping, and being outside.
FAVORITE THINGS
Movie : Erin Brocovich
Song : Depends on the day and mood
Sport : Basketball
Food : Spicy food
FUN FACTS
- Played competitive basketball until age 18 and received the nickname "warrior princess" by
her coach for her relentlessness on the court.
- First car owned would fill up with water when it rain and would have to scoop out the water by hand!
- Survived a horrible car wreck with no injuries at age 15, the car flipped 5 times, crossed 2 lanes of traffic,
and landed right side up.