>
Beauty Pageant
>
Miss Universe
&
Miss World
&
Miss International
&
Miss Earth
*
Road to Miss Universe 2014
*
Road to Miss World 2014
*
Road to Miss International 2014
*
Road to Miss Earth 2014
---
National Pageant >
United States
>
Hall of Fame Miss USA
*
Road to Miss USA 2014 (State Winner, Crowning Moment)
*
Miss USA 2014 Contestants - Head Shot
AMANDA SOLTERO
NEBRASKA
HOMETOWN: Columbus
HEIGHT: 5' 7"
AGE: 22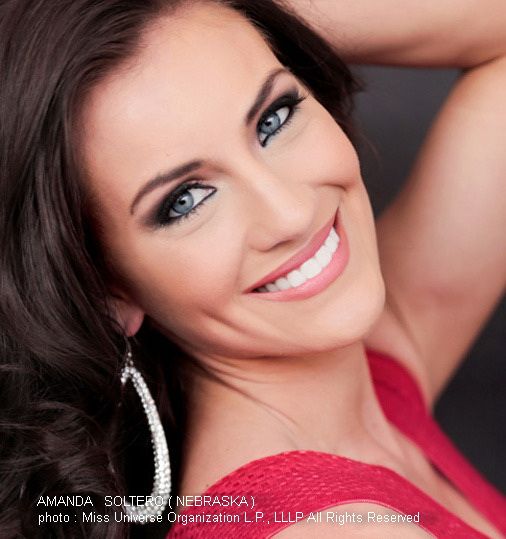 All photo : Miss Universe Organization L.P., LLLP All Rights Reserved
BIO
Amanda is a recent broadcast graduate of the University of Nebraska-Lincoln. She supports the fight against childhood cancer and is actively involved with a non-profit organization called "Sammy's Superheroes." Amanda grew up in a small town with one younger sister. Her faith and family are the most important parts of her life. She is an animal lover and enjoys spending time with her puppy, Reese. Her dream job is to do reporting on entertainment news for a large market.
FAVORITE THINGS
Movie : The Grinch Who Stole Christmas
Song : "The Good Stuff" Kenny Chesney
Sport : Sand Volleyball
Food : Macaroni and Cheese
FUN FACTS
- Every girl in Amanda's family has been a Nebraska titleholder.
Mom was Mrs. Nebraska, sister was Miss Nebraska Pre-teen, she is Miss Nebraska USA!
- One day, hopes her name is on a sign in her hometown.
- Loves being in front of the camera and letting the world know about current events as they happen.