>
Beauty Pageant
>
Miss Universe
&
Miss World
&
Miss International
&
Miss Earth
*
Road to Miss Universe 2014
*
Road to Miss World 2014
*
Road to Miss International 2014
*
Road to Miss Earth 2014
---
National Pageant >
United States
>
Hall of Fame Miss USA
*
Road to Miss USA 2014 (State Winner, Crowning Moment)
*
Miss USA 2014 Contestants - Head Shot
BROOKLYNNE YOUNG
OKLAHOMA
HOMETOWN: Norman
HEIGHT: 5' 9"
AGE: 19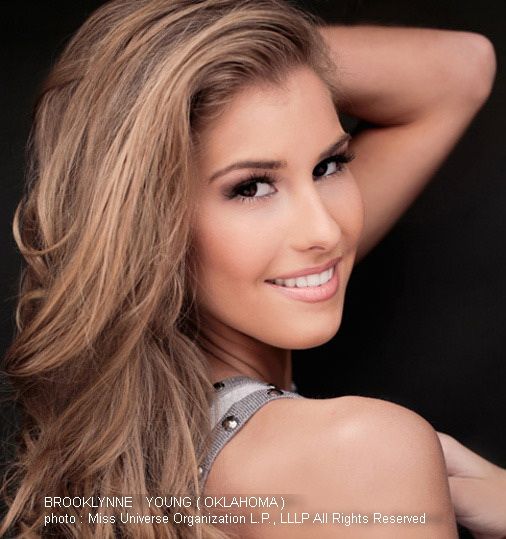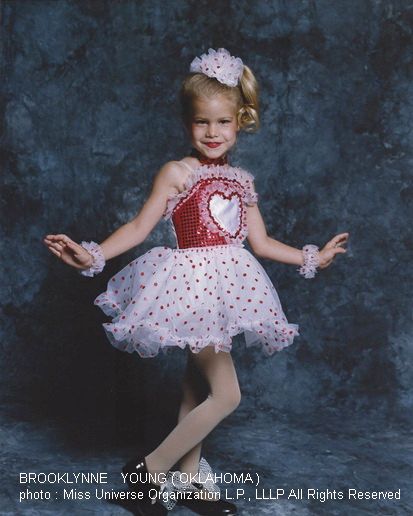 All photo : Miss Universe Organization L.P., LLLP All Rights Reserved
BIO
Brooklynne is a sophomore at The University of Oklahoma, where she is pursuing a major in Public Relations with a minor in Business. She is the youngest of seven children and caught the "pageant bug" by watching her older sisters compete. Brooklynne hopes to pursue a career in the fashion industry because she has had a lifelong love for fashion design. In fact, her oldest sister is an evening gown designer and Brooklynne was able to personally help design her own competition evening gown. Brooklynne currently works as a professional model, and in her free time she enjoys spending time with her family, playing tennis, horseback riding, reading, and skiing. In addition, she is actively involved in the Cavett Kids Foundation and volunteering at her church in the children's ministry.
FAVORITE THINGS
Movie : The Notebook
Song : "Dust to Dust" by The Civil Wars
Sport : Tennis
Food : Vietnamese Pho
FUN FACTS
- Oldest sister designs and makes her gowns while the other sister passed on the crown to her for two local USA titles.
- Enjoys fishing and riding horses and four wheelers.
- Most cherished memory was raising money to support leukemia research through Relay for
Life in of remembrance of one of her best friends.